Music Reviews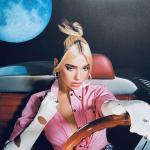 Dua Lipa Future Nostalgia
(Warner Records)

Dua Lipa couldn't have picked a more fitting name for her latest release. Future Nostalgia is an album of dualities: familiar pop songs that are entirely new, polished to a sheen but full of raw emotion, predictable but clever. The album is a nonstop dance party that doesn't let up for air, carefully straddling the thin line between homage and replication of the past masters that made 24-year-old Lipa so nostalgic for the times she never experienced herself.
Future Nostalgia opens with the title track, where Lipa announces her intentions like Janet Jackson in Rhythm Nation. Replete with gaudy (but not unwelcome) on-the-nose robotic vocals, she cheekily channels Janelle Monae's ArchAndroid and, the moment the keyboards hit, Jamiroquai's Virtual Insanity. Like Levitating, its sonic successor deeper into the album, its strength is in its smart blend of old and new, disco and futuristic. It feeds on nostalgia not just for the Studio 54 era glitz, but for the acid jazz revival that came after. It's impossible not to smile through this ostentatiously strutting number and clever lyrics ("I know you're dying trying to figure me out/My name's on the tip of your tongue, keep running your mouth"). The album then slides imperceptibly into Don't Start Now, a disco-funk track with Lady Gaga vocals, before heading back to the '80s on Cool, which feels so era-appropriate with its synthesized beats that it's only the slick R&B vocals that give its modern provenance away.
Physical was understandably touted as Dua Lipa's nod to Oliva Newton-John, but the sound is pure early Gaga, a recurring theme on Future Nostalgia. It's the same feeling that permeates through the album's strongest track, Hallucinate, an earworm so catchy, a beat so infectious, it's a wonder how it wasn't created by feeding the entire Madonna, Donna Summer, Gloria Gaynor, and Prince discographies into a computer until it generated this exact song.
If there's a bit of roboticism to the intense pop precision of Future Nostalgia, it can be forgiven. Dua Lipa has no choice but to manufacture nostalgia for these iconic eras that came before her, so some element of head over heart can't be helped. It's a winning approach, and straying from the mold of the rest of the album is what seems to produce its few weak points. Good in Bed on its own can't be faulted, but it belongs on Lily Allen's debut, not as a penultimate track on a futuristic disco album. The final track, Boys Will Be Boys, gets marks for message, but the method of delivery is sorely lacking. It might make sense to close out the album on an orchestral down note, but to lyrically spell out "I know that there will be a man around to save the day And that was sarcasm, in case you needed it mansplained" is awkward at best.
Small quibbles notwithstanding, Future Nostalgia is the perfect antidote to quarantine-induced cabin fever. Whatever reservations Dua Lipa may have had about releasing an album during a global crisis can be forgotten—we needed to dance it out.
11 May, 2020 - 18:40 — Gabbie Nirenburg