Music Reviews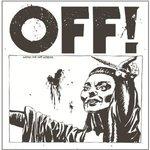 OFF! OFF!
(Vice)

16 songs, 16 minutes, all of which as harsh and direct as the name OFF! suggests. OFF! is the eponymous "full-length" of an out-of-time supergroup, fronted by Keith Morris of Black Flag/Circle Jerks fame (along with Dimitri Coats of Burning Brides, Steven Shane McDonald of Redd Kross, and Mario Rubalcaba of Hot Snakes). With this in mind, it shouldn't be much of a surprise to hear hardcore punk that could have been released 30 years ago, especially suggest that OFF! is where he would have taken Black Flag.
OFF!, like any hardcore punk album, features lo-fi engineering, distorted guitars, and in-your-face vocals where the lyrics extend the punch just far enough to make you flinch. The lyrics "we trudge through sweat and piss/we never paid for this" on I've Got News For You and "I'm gonna club you like a baby seal" on King Kong Brigade tell you everything else you need to know about the album, exemplifying the hardcore ethos' as well as anyone has since…well, since Black Flag and Circle Jerks. While the shock and culture of hardcore has become so prominent and assimilated into music that nothing from the genre will ever quite stick like Henry Rollins getting a mob to scream "Rise above! We're gonna rise above!" in response to being "tired of your abuse," we instead get a reminder that behind all the anger and nonconformity, confrontation is still admirable. When Morris asks if "you're head's up your ass," it might strike you that it's been quite a while since you heard a rock band call upon you to wake up.
But aside from everything that Michael Azerrad has articulated far better than I could ever hope, there are real tunes to be heard on OFF!. The guitar work is absolutely ferocious from beginning to end, the rhythm section's diversity and tightness reveals itself with increasing listens, and OFF! never rely on speed or volume to make up for lack of a guitar line or on profanity for lack of a lyric. The album isn't terribly diverse; most songs begin with a bit of feedback that serves as the only seconds of restraint until the next song begins. But when the entire album is over in 16 minutes and demands to be heard again anyway, it's hard to say that the album needs a ballad or a song longer than a minute-and-a-half. Coats' guitar, which ranges from precise, chord-driven rhythm of I Want One to blink-and-you'll-miss-it formless solos on Wiped Out to edgy riffs on Wrong provides enough excitement and intrigue to keep things exciting behind Morris' mix of autobiography, confrontation, and nostalgia.
At the end of the day, OFF! isn't going to revolutionize punk or create a wave of sound-alikes, but it's nice to hear Morris talk about needing to go to "the underground" or starting at the "red cross" to balance his more direct confrontation of the somewhat oxymoronic idea of "aging punks" on Cracked. OFF! is packed with fun little references that make its place out of time all the more fun, and when the band can write head-thrashing, body-moshing rockers with gut-wrenching images, it's all the more reason to take a quarter hour out of your day to vent. Who knows, if you're new to the genre, you might find that it's something you should look into. And if you're well familiar with it already, I dare you not to hit repeat.
10 May, 2012 - 07:47 — Forrest Cardamenis