Music Reviews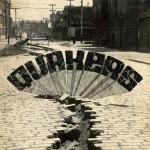 Quakers Quakers
(Stones Throw)

I never thought a Geoff Barrow hip-hop project would be anything more than a uniquely interesting sideshow, something to play through and enjoy, but nothing more. I never thought it'd be something to love and dissect. I never thought I'd listen to nothing else for three days straight after getting it. I never, ever expected anything this good.
It sounded too weird to be true at first - Portishead producer Geoff Barrow going by Fuzzface, sound engineer Stuart Matthews going by 7-Stu-7, and producer Katalyst teaming up with 35 different MCs. That's right, 35. And it's 41 tracks. A second disc includes an instrumental album, bringing the total to 82. An 82 track hip hop project produced by Geoff Barrow that rarely repeats an MC (Guilty Simpson and Coin Lock are the only ones to appear more than once). It's fucking ambitious, that's what it is. And they completely pull it off.
It doesn't feel like a hip-hop album. There's no central MC, and the rappers certainly aren't the main attraction. They're part of a collage of sound, an album that has more in common with J Dilla's Donuts or The Avalanches Since I Left You than Stankonia. The production strikes a perfect balance between busy and minimal, allowing the perfect amount of space for every MC. The record flows flawlessly from track to track, and the changes often aren't detectable until the MC changes. In many ways, it has far more in common with electronic music than hip-hop. Traditional hip-hop album structure is completely thrown out. The longest song is 4:03, but most don't top 2:30. Several are under 2:00. Madvillainy quickly comes to mind. Each rapper is given a few verses before the transition is made to instrumentals or a new voice. They handpicked the perfect MCs for each track. MCs that have never seemed exceptional before, like Tone Tank, end up with standout tracks. Quakers bring out the best in every guest they choose. Each voice is unique, but never overshadows any other part of the record. It's all very egalitarian.
Nothing here will get radio airplay. Most of the songs lack any sort of hook or chorus. A lot of the production has strangely spliced samples and sideways beats. It takes some time, but individual tracks start to stand out. Fitta Happier with Guilty Simpson is the first to jump out, but Tone Tank's What Chew Want is the star of the show after a few listens. The two track set of War Drums (Guilty Simpson and Phat Kat and RAID (Lyric Jones) is fascinating and perfectly paired. Sign Language (Aloe Blacc) and Earth Quaking (Akil) pulls of a similar one-two punch. Sign Language features some exceptionally Dilla-esque production, right down to the opening samples. I've had at least ten different favorite songs on the record over the last couple of days, and I can only hope they keep changing. There's so much to take, and so much to notice.
The instrumental second disc works almost as well. It's a solid electronic album, revealing some of the nuances that would otherwise go overlooked. It may not be as exceptional as the first disc, but it serves as a great compliment too it. One would not be as complete without the other. The hip-hop album sounds more complete after hearing the instrumental versions, but the opposite isn't always true. Some songs still manage to stand out, but it starts to sound empty without rappers. This isn't really a bad thing; it just means they managed to fit into the songs exceptionally well. I'd consider this my favorite electronic album of the year, and that includes both discs.
The record clocks in at over an hour, and that's just the first disc. It's a long record, but it never gets boring. The quick changes make it feel shorter than it really is. Each track leaves you wanting more, not less. Most likely, the MC isn't coming back. It transitions to someone new, each exploring the unique beats in their own way. It creates an astounding amount of variety, but somehow it all holds together as a singular album. The producers act as the albums hosts, working all the varying voices into their sound collage. A collection of samples, sounds and voices so incredibly diverse and ambitious, a record so completely all-in, is rare. An album this big that's also this good, that's not just rare. That's special.
Ladies and gentlemen, let me introduce to you, coming all the way from left field, the best album of 2012 so far.
3 April, 2012 - 10:27 — Andrew Baer