Music Reviews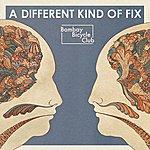 Bombay Bicycle Club A Different Kind of Fix
(Island Records)
Buy it from Insound

You may be forgiven if the latest album by British indie band Bombay Bicycle Club has slipped under your radar. After all, the band seem to be forever releasing new material (this, album number three, is being released just two years after their début). Or perhaps you've intentionally let this album pass you by, having heard some of the inconsistent and largely uninspiring output released by the band to date. Is it worth investing any time in this album, do BBC have anything that decent to offer?
The answer to that question is a resounding "yes". The aptly titled A Different Kind of Fix introduces us to an entirely different side to BBC; a more experimental, adventurous and confident sound from a band that have noticeably matured. BBC's début album, I Had The Blues But Shook Them Loose, had a phenomenal lead single but was otherwise a generic indie affair – a four piece band showing the occasional glimpse of potential amongst a string of otherwise unexciting, forgettable tracks. The follow-up, the Ivor Novello-nominated Flaws showed a softer, folkier side to the band and offered a few gems but, again, was largely inconsistent. The style of music on Fix sits somewhere between the first two albums, but with tinges of dance and electronica creeping in. The sound remains principally indie and accessible, but at the same time is fuller than anything BBC have offered previously. There are upbeat, bouncy tracks and beautiful slow, simple songs. And both are tackled masterfully.
Of the several tracks that deserve special mention, the first is lead single Shuffle. With its powerful but unusual, hypnotic piano riff, Shuffle is positively infectious and joyously happy, and fits the mood of the album perfectly. Then there's the exceptional Lights Out, Words Gone, with its equally catchy riff and summery, relaxed vibe. I'm sure to ruffle some feathers by comparing the beautiful closing track Still to Radiohead, but it does invite comparison – with a haunting, falsetto melody and the subtle use of special effects on the vocals, Still appears simple on the surface but is, in fact, a complex and layered song.
Unfortunately, BBC's trait of including unexciting tracks on their albums prevents Fix from scoring higher than an eight. Still aside, the album trails off towards the end, with tracks such as Fracture and Favourite Day nothing short of disappointing after those songs that have come before. The songs aren't without their positive qualities, but they don't live up to the high standard set earlier on in the album.
With the relentless touring forced upon a lot of bands, it's always impressive when a band is able to release new music as quickly as BBC has. And all the more impressive when the band is able to evolve and improve their sound with every album, rather than show all their cards on their first release. This album is a great one, and proof that the band are able and willing to develop and grow their music. I'm already excited for album number four.
22 September, 2011 - 07:48 — Craig Stevens