Music Reviews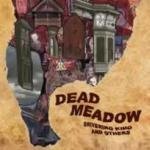 Dead Meadow Shivering King and Others
(Matador)
Buy it from Insound

The sudden shove aside given to the new rock revolution isn't at all surprising, since our interests only last as long as the next Radiohead album. However, the foray into prog-rock wasn't exactly what many of us had in mind. Cave In, The Mars Volta, Canyon and Dead Meadow are all taking rock into new dimensions, literally, and again, we're falling for another 70s resurgence. Not since 30 years ago, have we seen rock drag on for 10 minutes, a song that could be neatly wrapped with a bow on top in 3 minutes, if say The Datsuns were at the helm. But there's something about these ridiculously long and indulgent sonic explorations that are extremely hard to pass up. Ladies and gentlemen, please welcome the return of the five-minute guitar solo.
Dead Meadow, a trio from Washington D.C., who rebelled against and looked beyond the local hardcore scene for something different to do, rifled through their dad's old records and came up with some truly spellbinding influences. Picture Deep Purple's illogical riffs that centre on as much fuzz a Big Muff can deliver; Black Sabbath's foray into the dark and unknown world of the blues; and the powerful wall of sludge rock that was Blue Cheer and their brilliantly heavy Vincebus Eruptum album. Not to mention the monotonous, cycles of Spacemen 3. All of this is what drove Dead Meadow into making the most decadent album of 2003. Well, that and a love for J.R.R. Tolkien.
Shivering King and Others plays like an enchanted forest, offering an all-you-can-manage buffet of psychedelia and stoned fuzz that doesn't skim on time. At a lengthy 62 minutes, it's not exactly easy listening (unless mind-expanding substances are supplied), yet the ethereal mood of the record makes for a good opportunity to sit down and tune out. Mixed by Brendan Canty of Fugazi (oh, the irony), the sound is muddy, distant and haunting - the perfect combination. Bardo Pond better watch out.
The constant swap between overdriven electric and gentle, acoustic guitars over the course of Shivering King, proves there is plenty of sublime beauty with the madness. Bubbling Flower rolls around like a shot in the arm from Black Rebel Motorcycle Club, while Shivering King is a slow-burning, powerful attack, making it clear as to why it gets top billing in the album title. The more nimble songs, like the Zeppelinesque Good Moanin' and Me and the Devil Blues, also bring reflections of The Wicker Man, which are very relevant to the record in other places as well. The lyrics embrace spirituality and love, represented through the heavy forces of nature and a potent dose of fantasy, not unlike Lord Summerisle's regime. Even the artwork exhibits a trippy, occultish theme similar to the film's.
Dead Meadow conjure up a phantasmagoric, sonic exploration with their third album. The prog-leanings mixed with the blues-led riffs make the songs so undeniably hip it hurts, yet with the frequent injections of tranquility, there is no pain, only hobbits and giant, grey wizards.
24 June, 2003 - 23:00 — Cam Lindsay