Music Reviews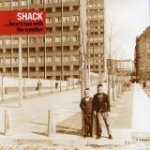 Shack ...Here's Tom With The Weather
(North Country)
Buy it from Insound

As scarce as Kevin Shields, The Stone Roses and The La's all rolled up into one, the work of Mick and John Head may just pop up from time to time without any uniformity, but you can always rely on something beautiful. Their story is what legends are made of, both heroic and pitiable. With a flurry of drugs, addiction, death and a classic album that was sadly lost in a fire, the Head brothers have had their share of downs. However, when reflecting upon all of these disasters, it's hard not to feel they've triumphed, with their music.
In their two decades of making music, the pair has released seven albums - two as The Pale Fountains, one as The Strands and four as Shack. Though they've always had a cult following, due to their rich sound from the timeless Liverpool scene and adoration of Love and The Byrds, the band managed to see some commercial success with the last album, 1999's HMS Fable. Compared to any of their previous releases, it was a record that was bigger and more confident, with production from Youth (Killing Joke) that sounded almost too refined for what fans were used to. Impossible to deny the genius of the songwriting, the album's opulent and basic pop structures felt a little too easy to swallow.
With their seventh album, ...Here's Tom With The Weather (a reference to a skit by late comedian Bill Hicks), Shack have returned to the modest production measures and refocused their sights on eloquent pop songs. Generating a sensation that hasn't been felt since 1998's Magical World Of The Strands (one of the best albums written by anyone), Shack's selection of twelve songs couldn't feel more right at home for longtime fans.
Instantly, the spirit of Arthur Lee sinks in, with the classic 60s pop tinge of Soldier Man, and the Mariachi horns all over Meant To Be. Mick's roughly gentle voice hits top marks on the cheekily-titled first single, Byrd Turns To Stone. Light years away from past singles Comedy and Natalie's Party, its subtlety alone rules it a chart loser, but the fact that he cleverly pays tribute to his heroes, is enough to make any devotee smile in accordance.
Of course, John's contributions should not be overlooked, as they usually are. Singing three of the album's tracks, as well as plenty of backing duties, his soft voice is superior to Mick's in carrying a melody and contains enough potential to take the reins. Miles Apart presents a nice contrast to its companions, complementing a simple acoustic guitar and dramatic strings in the background. Carousel, however, is his moment to shine, providing the album with its highlight. A quintessential Shack love song, John's idealistic rendez-vous is made of stuff only Nick Drake could have matched.
A perfect comeback in a form that does them most proud, ...Here's Tom With The Weather is another Shack classic. With no calamity or bad luck on the horizon, this could prove to be their most rewarding period to date. Let's hope.
7 October, 2003 - 23:00 — Cam Lindsay