Music Features
Carnaval Bahidorá - A Celebration of Mexican Indie Liberty
By Carlos Dávalos
The music scene in Mexico City couldn't be in a better shape. DF (Distrito Federal), as Mexico City is known amongst locals and the outside, urban-junkies addicted to the sexiness of the inner-city chaos, has developed a fantastic music landscape, finally competing with any other important capital of the world.
It all happened in the last decade. Before that, during the nineties and early noughties, although there was no legislation against concerts or music events, a social and political prejudice, overhanging from the sixties, seventies and eighties, when tacit prohibition of massive (music) events was held, still roamed around like a street dog, intimidating enthusiasts who were trying to build an independent music scene. But just like a street dog, the prejudice was gently kicked out and a new wave of bands, music impresarios, proposals and acts have become regular components of Mexico City's cultural scenery.
Of course the music scene has still a lot of things to adjust, but it has managed to construct a solid offering. Ranging from of the traditional local bands (Café Tacvba, Panteón Rococó, Zoé, Caifanes or Celso Piña –the accordion rebel), to the attractive music acts representing the forefront (the Boiler Room Underground Music Show just opened a venue in Mexico City). Also the regular, mainstream arena concerts (Radiohead, Muse, Rolling Stones, One Direction, Tool, U2, Rihanna, etc.) and the medium-size venues that cover a huge variety of bands, acts and performers with different levels of economic independence from the music industry (Kaiser Chiefs, Seun Kuti, Jake Bugg, Wild Beasts, Sonido Gallo Negro, Arcade Fire, Los Fabulosos Cadillacs or Franz Ferdinand could serve as examples). And finally, the small, underground spots completely off the radar, hosting cult legends like Philly MC Bahamadia, Zion Train, Xiu Xiu, Afu-Ra, Shigeto or local punk trashers like Los Viejos or the filthy reggaeton parties hosting two thousand teenagers in ghost, illegal venues.
And festivals are no exception. Mexico City has two massive ones which have now been established for a few years. Vive Latino is the biggest, most important music event in Mexico and started in 1998. Corona Capital Festival is more indie-oriented, beer-brand sponsored, younger (it started in 2010) and has an interesting music selection. And then there are a number of smaller festivals, all with a main theme, from reggae, to ska, world music, hip-hop, and electronica.
On Saturday, February 15th, in Morelos, a neighboring state to Mexico City, the second edition of the Bahidorá Carnaval was held; a music celebration with five thousand people dancing and camping. It's an amazing congregation of youngsters and a clear sign of the vigorous music reinvention Mexico is going through.
The event happened in Las Estacas, a natural spring that creates a beautiful oasis in the middle of hectares of total drought. There was only one stage; fourteen official acts. Organizers managed to generate a cool flow of queues and ticket checking before entering, there were no lines to get food or drinks. Sponsors were able to create fluent bars where the longest line was only 15 minutes long. Perfect.
Camp areas were close enough to get a jacket, dry socks or even a power-nap. And a bunch of different amenities, including the absolutely transparent and clean river next to the stage, created a sort of weekend paradise for chilangos (slang for people from Mexico City).
And last but never least, the music. Putting aside the perfect balance between organization, natural beauty and the number of people, the Bahidorá Carnival also had an amazing line up.
Coloncho, Oso Leone and Mahmundi were the first block of artists opening the festival. People were still arriving, so it served as the perfect welcoming vibe. Mahmundi's Brazilian infected, bossa lines and her platonic voice became a gorgeous balsam for us urban creatures.
Then Colombian hip-hop and cumbia outfit Bomba Estéreo, was the first act to inject the initial dose of upbeat proteins to the jumpy audience. Their interpretation of funk through Colombian rhythms and Liliana Saumet's powerful fronting centered the attention on the stage, becoming the first dancing plateau of the evening. Sun over everyone's shoulders, inevitable dance-floor sweating.
Wild Belle, Autre Ne Veut and Baths integrated the following set of bands. Natalie and Elliot Bergman from Wild Belle conquered the stage with songs like Love Like This and Keep You, their music, flirting with a sexy reggae spirit and Natalie's stoning elegance, generated sublime moments. Autre Ne Veut came without his full band, and although his voice resounded in the line of trees that backed the audience, his music felt somehow incomplete. Baths' Will Wiesenfeld came next. The sound he created, resembling a decade-later translation of Postal Service's Give Up, was the perfect bridge to cross from the serenity of the sun setting to the madness of the dark hours and provocations of the dance-beat.
Brainfeeder's TOKiMONSTA came next. Her presence validates the theory of a healthier music diet in Mexico City. TOKiMONSTA flew in from New York City and only stayed for a few hours in Mexico, sufficient time to deliver a jaw-dropping set. She wiped out all doubts regarding her authority and her influence. Strong rhythm manipulation and fractured beats, filters and sound boards. She looked gentle in the stage, surrounded by flowers and lianas.
Right afterwards, New York based, deep house outfit Bob Moses came out. Their perfect framed, 4/4 house beats were the ideal sequel to TOKiMONSTA's set. They played over an hour and their set was the provocation everyone was expecting. A well rounded collection of house beats, spaced enough to move gently, liquid sound elements with vocal arrangements decorating the beat.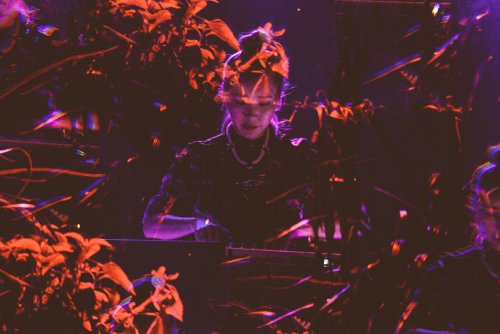 Matthew Dear was supposed to be the closing act, but his interface wasn't working, so he only played 25 minutes. The real closing act was Montreal's Kaytranda; an electronica maverick, a sound titan and a beat monster. His strobed rhythms and ghostly sound paths, infected with colossal bass plates, were absolutely perfect. Small movements with his hands following the beat or his head, shaking up and down, worked like a director with his baton, conducting five thousand people through his beats.
Mexico's music scene will keep exploding. Bahidorá Carnaval is a clear sign of the maturity Mexico is reaching as a music hub and as an innovative, generator of new music landscapes. Mexico is definitely ready to receive audiences from all over the world. Are the more traditional music strongholds of the UK and America ready to discover new frontiers?
All photos are copyright Daniel Patlán.
3 March, 2014 - 19:14 — Carlos Dávalos