Music Features
Embrace (Interview)
By Craig Stevens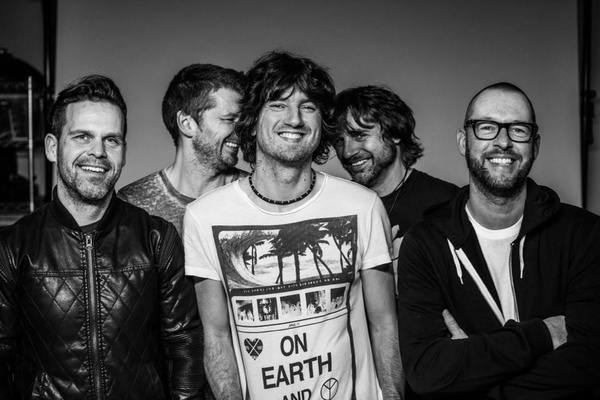 Ahead of a UK tour next month, and the release of their seventh studio album in early 2017, keyboardist Mickey Dale from British rock band Embrace kindly took time out to speak to No Ripcord.
The UK tour's coming up in just a few weeks' time now. How does it feel to be going out on tour again?
Really exciting. The only thing we've done so far this year [live] is the Secret Festival, which is at Lotherton Hall, on the edge of North Yorkshire. It's just great fun. We've got new songs to play and the band feels as though it's on a roll at the moment, so we thought "why don't we try and get some gigs in before Christmas". The fans seem really excited to see us out again playing live. We took a bit of a break because Danny, our singer, got married and there was the stag do, wedding and honeymoon and then after they got married, they went travelling for six months. But now, it's full steam ahead again, which is brilliant.
How far in advance do you have to start rehearsing for live shows, with a band as established as yours?
It's actually a lot less time than you'd imagine, because we know the songs inside-out. So probably about five days of solid rehearsing and we'll have it all up to speed. All the old songs, just to blow the dust off them, and two or three of the new ones. I think if you over-rehearse, you can tell. It takes some of the spontaneity out of it. I think audiences like to see bands flying by the seat of their pants a little.
You mentioned new material potentially being previewed at these gigs?
Yeah, we started on new material at the start of last year and it was coming together fast and felt good. But then because of everything else going on, weddings and such, the new songs got pushed to the back-burner. But it's brilliant that we've been able to pick up where we left off and all the songs we started on last year still sound really fresh and vibrant. And the new stuff is coming along really quickly. If anyone were to ask "what's the new album going to sound like?", we've found ourselves almost going full circle. The sound is more stripped back, the arrangements are more simple, it's very much about the songs being put right to the fore. Sometimes, there's an over-reliance on production to make it sonically interesting and deep and diverse. We just thought "let's just be Embrace". There are guitars, pianos, but hardly any strings on this one, we've gone back to using more brass like we did on the first album. So just great vocal takes, a little bit of percussion, backing vocals and let the songs do the talking. Which has meant that we're actually working really quickly. We got together a couple of weeks ago and got three songs recorded in that week, which for us is probably some kind of record! They all sound really vibrant and fresh, which is brilliant.
Do you have a status update, an ETA for the new album?
We would really like to have it out in the first quarter of 2017, May at the latest. But because of the way the music industry works, where everyone likes a three-month lead time, if we want it out in May, we'll have to have it finished by February. So that's what we're aiming for. And actually, for the first time in our 20-year career, it actually feels like we're going to hit a deadline! We're famous for pushing things back and record companies really don't like that. "If you're putting it back that far, you're going to have to push it into next year". You can't release anything in November or December because it's the Elaine Paige / Cliff Richard season for greatest hits. Or Michael Buble's releasing a triple-album boxset, so you can't get near any press!
What's your process for writing music? Does it start as a riff or lyrics, do you always write together as a band?
95% of the time, the way it works is that Danny or Richard will come in with the seeds of a song. In Danny's case, he'll have chords and a melody. He'll only have rough lyrics, when we start playing it as a band he'll have so many lyrical ideas. Sometimes when you're writing the lyrics, it's about finding the right vowel sound to create a particular feel, and then you find the words. It's like a giant jigsaw puzzle. But usually, he'll come in with a basic version of a song, with a verse, chorus and middle eight and we'll start jamming it as a band. And generally over the course of a couple of hours, it'll take some shape, we'll know what the drum beat is and what everyone is going to be doing. Usually, we have a pool of songs that will either flourish into something that we're really excited about or will go onto the back-burner before we move onto another one. When you're in a band, especially in the studio, you want to keep momentum, keep everyone's energy levels up and keep everyone buzzing. If you start focussing on a tiny aspect of the song, you can see people zoning out and losing interest, starting to reach for their phones.
It must be quite difficult for all five of you having to be in the same mindset, and having the same energy at the same time.
We've got very good at that now. Everyone knows when it's time to offer an opinion, when it's time to just go with an idea. We've been doing it for 20 years now, so there is some mind-reading, there is some telepathy that goes on. You can look at somebody and instinctively, they know that you're signalling to take it up or take it down, or go to the next section of a song. It just takes a little glance and everyone knows what you're about to suggest. But it's been brilliant, there's been magic in the studio again working on these new songs and I think that magic will transfer into playing the old ones again. It gives you newfound excitement and enthusiasm for getting out there, saying "look, this is what we are and this is what we do". There are a lot of people out there who still want us to do it and want us to play live which is fantastic.
The venues you're playing on your tour next month are all quite intimate, certainly compared with the arena gigs you've done in the past. Do you have to adapt your sets for more intimate gigs?
It's surprising how we don't really have to adapt the sets so much. For songs like Gravity and Ashes, whether you're playing them in front of 400 people or 12,000 people, you do the same thing. It's odd that, isn't it? In a smaller venue, you are able to throw in some more obscure tracks or some Embrace favourites, like I Had A Time, which is the closing track from our second album Drawn From Memory. You probably wouldn't want to play that in a 12,000 capacity arena but in front of say, 800 people, you could do that and have the room all captivated. So actually, you're right, there is a difference. But when it comes to playing the big tunes, the "bangers" as we like to call them, the Come Back To What You Know, All You Good Good People, Nature's Law, those seem to transfer. We went to America and were playing some pretty small clubs in some cities over there, a couple of hundred capacity, and the faces still lit up when we played those. You just give it your all and imagine you're playing to an arena.
I really like playing smaller crowds because it's so intimate and it's nice to be able to see people's faces. I remember the first time we played the Manchester Evening News Arena and that was a little daunting. You're halfway back on the stage, which feels like half a mile away from the audience. There's a security pit and all these other areas where the audience aren't allowed to be. You'd have to do that regularly to get used to that detachment and to learn how to make it feel intimate.
Do you or any of the other members have any pre-gig rituals, anything that you do to gear yourself up for a gig?
We usually have a liner, like a vodka. Not a lot, just a little bit! And then a couple of beers on stage. As the intro tape's playing and we stand around backstage, we like to form a circle and put our arms around each other and jump up and down - a group hug, basically. Get the adrenaline flowing a bit. Everyone's got their own way of approaching a gig. Danny goes quiet and stays in the corner of the dressing room, all pensive. And the rest of us are usually lively, chatting a lot because of the nerves. We still get nervous. I think when the nerves stop, that's when you should stop, because the magic's faded. But yeah, nothing daft! We're not a difficult band to please, we don't ask for all of the brown M&Ms to be taken out on the rider or anything like that. We're just five best mates who are still loving doing what they're doing.
Your support act for the tour, Glass Mountain, how did they come on your radar?
I recorded them, and I think they're a brilliant band. I was cheeky enough to ask the Embrace boys what they thought about having Glass Mountain as support but having seen them, they thought it was a great idea. So that was that.
The band picked up an award last night in Leeds, at the Leeds Music Video Awards. They did this video for a track called Glacial, which is shot under ultraviolet light. In the video, Harry, the singer has people sat behind him, who you can't see, and who are smearing ultraviolet paint across his face. And gradually, as the song progresses, he gets completely smothered in paint. It's very striking and dramatic. It's this one, long, seven-minute shot. And a great song. So one to watch, I think.
The band were so happy to pick up the award. There was some stiff competition, some amazing talent. The band thought they might not win because the standard was so high. The award that they won was for Best Performance, which Harry and the team totally deserved, just for enduring twelve hours of being smothered in ultraviolet paint. They'd be doing a take and it would be like "No, sorry, we've got to stop. You've got to get showered." And then they'd do it all again. And ultraviolet paint is a nightmare, you think you've got it all off your skin and when you go back under the light, only then do you see that you're still covered in it!
And which other bands or artists are you enjoying at the moment?
There's a band from America called Sunflower Bean, who have shoegazey kind of vibes. I really like Daughter. I like the new Biffy Clyro album [Ellipsis], I'm going to see them at Leeds Arena in December. Low, from Duluth, generally make very sad, slow, beautiful music but they brought the tempo up with their new album, The Exit Papers. They're playing Halifax in December, just before we go on tour, so I'm going to go and see them play in a beautiful church. One Sided Horse are another band that Embrace have been involved with. It's a project from a guy called Mark Whiteside, who also writes really profoundly sad, big songs. He has a big booming voice, almost Scott Walker-esque. We helped him make his debut album which is coming out next year. Mark's One Sided Horse will be joining Embrace for a couple of gigs on tour as well as Glass Mountain. And there's a chance that four-fifths of Embrace will be joining him onstage as, apart from Danny, we all helped him make his debut album.
And I was going to ask you some questions about the festival that Embrace started, The Secret Festival. That takes up a chunk of your time, I bet, doesn't it?
That is a major thing, yeah. It takes months and months of planning. You're essentially starting with an empty field then adding PA, toilets, camping, catering. I can't begin to describe how frustrating it can be. But then when you're actually there, in front of 2,000 people, it suddenly all feels worth it.
In what ways is running a festival different to how you imagined it would be?
There's a lot of red tape. Every single thing that you want to do needs to go through a committee and health and safety. Just simple things like "why don't we get some hay bales for people to sit on, it's going to be a lovely sunny day". The response is "oh no, you can't do that. Oh, well you can, but you can only do it if they're fireproofed". And then the question comes as to how much that's going to cost. And it's crazy things like that take up your time. Like deciding how many toilets will we need for the number of people coming. We really get right into the infrastructure. Right down to fencing, signage, making sure there's an area where children can be safe and play together. It's been a massive learning curve. We'll do it again for sure. I don't know if we're going to do it in 2017 because I think with us hoping to release our seventh album next year, rather than do our own festival, we might want to keep our options open for doing some other festivals.
You keep the line-up secret until the day of the festival itself. How difficult is that to do?
It's so difficult. We get really excited and it's so hard not telling people. At the 2016 Secret Festival, we had such a strong line-up that we just wanted to tell somebody! For instance, Starsailor said they would play, and Badly Drawn Boy. And then we're also relying on the bands themselves to keep it under wraps as well. You know what it's like with social media; it's like the walls have ears. You mutter something down the pub and before you know it, a stranger's overheard you and recognised you and the next thing, it's all over social media. So you've got to keep your gob shut! What is it they say? Loose lips sink ships. If word got out as to what the line-up was, we'd probably have to scrap it and start all over again. So we've learned to be tight-lipped. Getting the line-up together is brilliant, that's probably the most fun part. Calling bands that we've met over the years and asking if they'd like to be involved. And it's a small festival, so it's not as if we get the bands by offering them large sums of money. A lot of them are doing it for the same reason we are, for the love. To hang out and to play to a new crowd. And it's something to do on a weekend!
And what's been your favourite moment from the three years of running The Secret Festival?
The first one at Knebworth was really special. Knebworth Park is legendary. There's just something about the place, as soon as you drive through the gates and see the deer running around. It's got a very magical atmosphere to it. And because that was the first one, and the weather was absolutely amazing, that for me might be my favourite of the three. The weather was really trying to ruin it this year. But our fans are so resilient; they just clapped, cheered and danced and were determined not to let the weather affect it. For us up onstage, when you have the wind blowing at you and the rain pounding down, with the guitar pedal boards absolutely drenched and our road crew coming on with plastic sheets to put over them, trying to make it so you can still see what pedals you're supposed to be pressing with your toes - it was a bit fraught.
The fans make it special. They come along and decorate the site. Sometimes we do a fancy-dress theme, like Yorkshire we did one year, and people came along in cloth caps. Or we'd ask them to come as your favourite superhero from your childhood, and people really embrace that. That sense of fun and not being scared to make a fool of yourself. We had a sports day as well this year, which was good. Although Mike our drummer nearly broke his back falling over in the three-legged race! I think he bruised his ribs. So he was sat behind the drums and every time he coughed, he was wincing with a sharp intake of breath. But he's a toughie!
A huge thanks to Mickey for taking the time to talk to us at No Ripcord. You can find details of Embrace's upcoming December UK tour dates on their Facebook page.
28 November, 2016 - 04:33 — Craig Stevens