Film and Television Features
The Films of 2013
By No Ripcord Staff
We're a small, but fairly diverse (both mentally and geographically) bunch here at the No Ripcord Film and TV section, but surely that shouldn't mean that we're not entitled to throw our collective hat into this year's list of Films Of The Year lists? Even if said smallness and diversity makes coming to any sort of consensus decision. Between the seven writers who submitted their personal top 5 (or thereabouts) of 2013's cinematic highlights, twenty-five films were nominated. So, following the countdown of our top 3, each writer's full list (as well as a few more specific prizes that each personally chose to award) is included, as that's arguably where the action really is.
But first….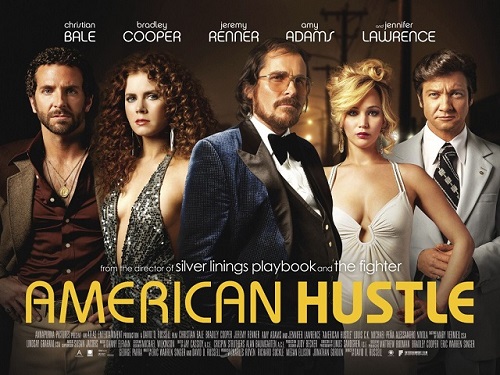 Number 3. American Hustle
David O. Russell continues the hot streak of his still surprising late career renaissance with a knockabout crime drama that's bound to feature prominently in the upcoming awards season (probably not in the Hair and Makeup categories though).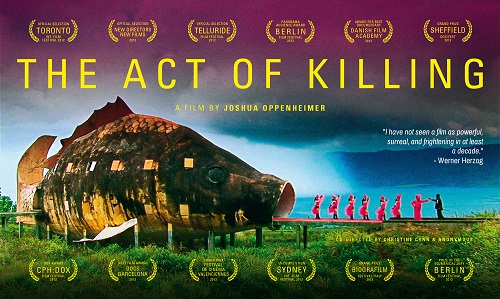 Number 2. The Act Of Killing
On our radar since early this Summer, following its fairly rapturous reception at Sheffield's Doc/Fest, this documentary from Joshua Oppenheimer, Christine Cynn and a third, anonymous co-director, took an unbelievably tough subject - decades-old atrocities carried out by Indonesian 'death squads' - and worked cinematic wonders.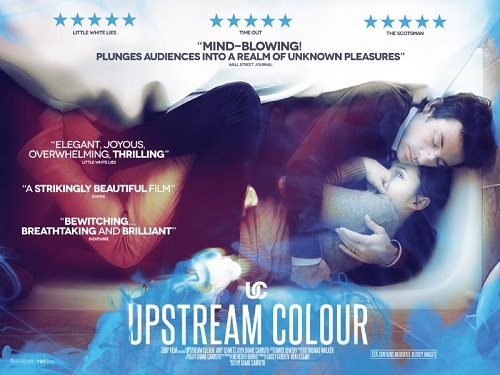 Number 1. Upstream Color
In what is the closest we get to a landslide (all three writers who put it in their lists had it in first place) Shane Carruth's psychic brain slug-fuelled relationship drama is our film of the year. And deservedly so, it might have been inscrutable, occasionally inaudible and perhaps rather cynical about love, but it was also fiercely intelligent, oddly moving and genuinely unique.
---
How The Writers Voted:
Angel Aguilar
1. 12 Years A Slave
In a year that reaped a handful of survival tales, this true-life story is the most harrowing because director Steve McQueen dares to dig deeper into the brutality inherent in the practice of slavery. Solomon Northup (Chiwetel Ejiofor), a free man abducted and sold into slavery, tries to hold on to his Christian principles as his freedom is stripped away. Michael Fassbender plays a plantation owner torn between his feelings for his favorite slave and the violence demanded by a slave society. The film reminds us that forced labor still exists in our times, and the issue needs action.
2. American Hustle
This recreation of the seventies is spot-on. It's all here: the funny haircuts and garish clothes; the seedy town centers that housed a dark underbelly; the clueless justice system that lost the moral compass in the Nixon years. The ensemble cast, now regulars in director David O. Russell's universe, is perfect, yet Amy Adams stands out as Sydney Prosser, a con lady with a keen eye on the odds. The famous Abscam sting operation is played for laughs, but the satire mirrors our own times. Graft and political opportunism are still main movers in the way we do business.
3. Gravity
Director Alfonso Cuarón resembles the mid-career Alfred Hitchcock in his quest for cinematic challenges and new forms of suspense. Unlike Hitchcock, he doesn't give short-shrift to the emotional element. There's chemistry between Sandra Bullock and George Clooney, even in their space suits. Bullock gives her most arresting performance as a marooned scientist with all the odds against her. The film is visually stunning, with every camera movement, CGI, and special effect worked to perfection by Cuarón and his crew, proving that a man of vision is worth a thousand craftsmen.
4. Captain Phillips
This could have easily descended into a dry retelling of events without Paul Greengrass' cinema-verité approach, which tells the story from both sides, presenting from the outset the desperate living conditions that lead some men to piracy. These pirates become fully-fleshed characters before they board the ship. Tom Hanks plays the title role masterfully, avoiding heroic clichés. His approach is inward, focusing on the quick thinking that saved a ship and its crew. Taut and suspenseful, the standoff between the Navy and the Somali pirates is a gripping cinema piece.
5. All Is Lost
A crash with a shipping container sends a man and his sailboat adrift in the Indian Ocean. In many respects this is a silent film, so it was a casting coup to get Robert Redford to play the film's sole character. Redford, who battled the elements as Jeremiah Johnson way back in the 70s, exudes rugged individualism. With that as a given, he still surprises us with the physical stunts demanded by the tough shoot, specially for a septuagenarian. What actually stays with you is his nuanced performance as a man who is losing the fight for survival and wants to leave a testament for his loved ones.
Best Scene: 12 Years A Slave. Solomon Northup is forced by his demonic master to punish Patsey (Lupita Nyong'o), his best friend. Solomon loses his last shred of innocence with this act of violence.
Best Performance: Cate Blanchett in Blue Jasmine, a Blanche Dubois for our carpetbagger times.
Worst Film: Ender's Game proves that not all YA books can make good films. By-the-number-performances, dull action scenes, and bad plot structuring render this one a dud.
Biggest Disappointment: The Counselor. A good performance by Michael Fassbender is gone to waste. The script by Cormac McCarthy is too elliptic to give emotional heft to the story.
Surprise of the Year: Matthew McConaughey, who continues his career rebound with great performances in Mud and Dallas Buyers Club.
---
Forrest Cardamenis
As a note, before I begin my list of the year's top films, there are two films that premiered in 2013 that I have left off my list because they have acquired distribution and will be released in 2014. As such, The Missing Picture and Only Lovers Left Alive, great as they are, will not feature here. My number two film has not acquired distribution and is thus included. The rest both premiered and were released (at least in the United States) in 2013.
1. Upstream Color
A testament to what the cinema can do, Upstream Color is, in my mind, easily the best edited film of the year, and also the film with the best sound design (and one of the best scores, too). Images are linked through colors, graphic matches, and sound associations in a way that slowly builds, allowing themes to build through repeated viewings. There are no films that lend themselves to comparison, and the narrative, often misinterpreted as having a happy ending, leaves us with all the right questions without ever feeling gimmicky.
2. Closed Curtain
For those who love personal films, this is about as personal as it gets. That Jafar Panahi continues to make films despite being under constant threat from the government is something of a miracle in itself, but it is precisely that situation that has led him to once again reconsider the function of the art form. Closed Curtain is a chance to watch that debate, personal and aesthetic, take place within the great director, and every curveball it throws only complicates matters. It's not only a sensible follow up to This Is Not A Film, but it blows that work out of the water.
3. Stories We Tell
A rich examination of memory, truth, and our fabrication of each, Sarah Polley turns a talking heads documentary about looking for her biological father into a rich meditation on issues that go much deeper.
4. Blue Is The Warmest Color
For all of the controversy regarding issues of representation and the verisimilitude and creepiness of the sex scenes, Blue Is The Warmest Color remains a deeply absorbing work that never hits a slow spot. It's far more than just a coming-of-age love story, though; it's an examination about the tendency of life to imitate art, the myriad roads to creative fulfillment, the way we absorb culture, and the link between art/culture and class. Many linger on perceived issues with the sex scenes, reducing a three hour drama to 15 or so minutes, but doing so robs a great film of its numerous rewards.
5. Before Midnight and Ain't Them Bodies Saints and Leviathan (tie)
You are probably looking at this line and thinking, "this guy just wants to fit more films into his list," and if so, you are not wrong. But trying to distinguish three radically different films that, in my mind, occupy the same tier, so to speak, is impossible. Before Midnight is a wonderfully written examination of what love looks like 10 and 20 years later, complete with sly references that challenge us to recall everything we have learned about these character from the previous two installments (Before Sunrise and Before Sunset); Ain't Them Bodies Saints is a quaint and beautiful examination of the creation and tradition of folklore that itself resembles a folk song or murder ballad; Leviathan is one of most powerful sensory experiences one could have at a movie theater, and one of the best utilizations of digital technology yet to grace the cinema screen. See them all.
Best Scene: I have two: The first is the opening of Post Tenebras Lux, in which a young girl delights in the presence of animals as the sun slowly sets in the background. The other is the house-party/bonfire scene set to Soft Machine's Why Are We Sleeping in Something In The Air.
Best Performance: Male or female, lead or supporting, Adèle Exarchopoulos of Blue Is The Warmest Color outperformed everyone else in this critic's mind.
Most Underrated: Ginger And Rosa is much more than just a coming of age story even on the page, but Sally Potter's use of costuming and color, along with Elle Fanning's great performance, make me wonder why so many dismissed it.
Worst Film: The Place Beyond The Pines narrowly beats out Pieta and CBGB.
Shout-out To: David Lowery, who edited the year's best film, directed one of the best, and also helped deliver a good script on Yen Tan's Pit Stop. My eye will definitely be trained on whatever his next project is.
---
Andrew Ciraulo
1. Pacific Rim
In terms of sheer childlike enjoyment, Pacific Rim is by far my favorite movie of the year. Like many of my generation, I grew up on a steady diet of anime and hifalutin action flicks, and was weened on Godzilla flicks from an extremely young age. So, naturally, I was bound to love this film. However, there's more to Pacific Rim than just bloated monster-on-mech brawls -- there's some fabulous set design, a commitment to practical effects that's seldom seen in the CGI-era, and a story that, like blockbuster greats Star Wars and more recently Avengers, hints at a larger-scale universe. Admittedly, this will never be a film known for its performances, but the ambition of its creators and dedication to vision (albeit a quirky, indulgent, and nerdy one) is simply second to none.
2. A Field In England
There's not much else I can say about A Field In England that I haven't already said before. It's a brilliant and criminally overlooked film. Admittedly, after multiple viewings, I am a little bit more attuned to its faults -- the abandonment of a straight forward plot, the way in which certain shots drag, the disorienting editing techniques -- but you could just as quickly praise the film for these same features as extremely effective tools that feed the chaotic brood that director Ben Wheatley aims for in the first place. Regardless, there's no way that anyone can say that A Field In England isn't an experience in its own right -- one that, for better or worse, affects you on both a physical and emotional level.
3. The World's End
I think it's safe to label Edgar Wright as a fine homage artist. At least that's the impression I get from his loosely connected Three Flavours Cornetto Trilogy, which has tackled a trifecta of genre tropes such as zombie horror (Shaun Of The Dead), the hifalutin action blockbuster (Hot Fuzz), and now the alien invasion flick in The World's End. But what separates The World's End from the previous installments is its ability to seamlessly integrate larger, darker themes into its comedic facade. The movie is essentially an allegory for destructive nostalgia and conformity (or "Starbucking," as Wright puts it), that somehow finds a midpoint between real human tragedy and absolute hyperbolic farce. But truly, it's Pegg's superb performance as the alcoholic, nostalgia-driven Gary King that holds the film upright, perfectly balancing both the affable humor and pathetic drunkenness of Mr. King. All in all, The World's End is a movie with staying power -- one that will grow with its audience and surely reward on repeat viewings.
Best Scene: Every scene in Pacific Rim where a monster is punched by a giant robot. That may sound extremely silly and childish, but those moments prodded my inner-child in a way that few movies have. Sorry folks, I wish I could give you a more nuanced "intellectual" answer here, but it just wouldn't be genuine.
Best Performance: Tie -- Michael Smiley and Reese Shearsmith as O'Neil and Whitehead in A Field In England.
Worst Film: The Conjuring, easily. I don't know what film was shown to critics that earned it such wide acclaim, but it most surely wasn't the film I saw in the theater. I mean come on, James Wan literally made the same kind of Amityville rip-off with Insidious, and it was universally panned, what's different about this one? Perhaps enough left-over budget to line the pockets of major international publications...
Biggest Disappointment: I can't say I was disappointed with Man Of Steel upon leaving the theater, but the more I thought about it, the less I liked it. Between the heavy-handed Christ imagery, the blatant flubs in logic, and the lack of development for its prime female character (whose existence seems to center around falling from high altitudes and kissing the leading man), Superman definitely tarnishes significantly on repeat viewings.
Biggest Surprise: Honestly, I thought Iron Man 3 would just be another mindless, mediocre comic book sequel, but it actually turned out to be a clever action flick that just happened to feature comic book characters. I know, I know, you might be asking yourself "What's the difference?" But truly, with its ridiculous stunts, off-the-wall performances, and comedic plot twists, Iron Man 3 has more in common with Die Hard With A Vengeance than it does Iron Man 2, and thank goodness for that. Best of all, Tony Stark actually gets a little bit of character development in this one! It's definitely no where near the best film of the year -- it's not even a really good film, per se -- but it's extremely entertaining, and really, that's more than I thought I'd get, folks
---
Mark Davison
1. Frances Ha
Frances Ha could have so easily been an awful film about awful people, particularly going by Noah Baumbach's past track record, and yet it ended up being an incredibly likeable account of an incredibly likeable girl, despite her spending most of the runtime acting like an idiot. The Bowie-Truffaut-Gerwig combo helped immensely too.
All signs pointed to Spring Breakers being absolutely terrible: the cynical use of 'Disney' starlets to get a bit of controversy based publicity, the gratuitous nudity of the actual publicity, Harmony Korine, James Franco, Skrillex. And yet it was so much more than that, and so much less at the same time, like a candy-coloured abyss that was incredibly entertaining, and oddly hypnotic, to gaze into.
3. Gravity
Sure, the story itself may have been lacking somewhat in gravity (boom boom!) but it looked, and sounded, terrific. You know when film critics use the term "pure cinema" to justify their unreasonable love for a movie that's dumber than a whole toolbox full of hammers (or something)? Well...
4. Stoker
Another candidate for the "pure cinema" tag, Stoker might perhaps be the definitive proof that the right director and cast (not to mention composer Clint Mansell) can make a great movie out of a bit of a dog of a script.
5. In The House
Just when it looked like my list was going to be filled with movies that could very easily be dismissed as style over substance, here's a French psycho-sexual literary thriller to balance things out (although this spot very nearly went to Only God Forgives). But while I could go on about the interesting questions of authorial and audience responsibility that the film raised, really there's no getting away from the fact that it was essentially a farce, albeit one viewed through a particularly sharp, cynical eye.
Worst Film: Even in the cinematic cesspool that has been Gerard Butler's filmography to date, Olympus Has Fallen hit a new level of repulsiveness. Although it was closely rivaled by Barry Levinson's eco-horror The Bay, which added general incompetence to that repulsiveness (but probably counts as a 2012 film anyway, despite its UK release date saying otherwise).
Biggest Cinematic Black Hole: I saw Star Trek: Into Darkness twice at the cinema, and yet I remember nothing about it... there was a bit where Simon Pegg ran about, I think, and another bit where Benedict Cumberbatch was quite hammy, but that's pretty much it. And, while I'm on the subject, that colon in the title still makes no sense
Most Unjustly Maligned: The Lone Ranger was always going to be a terrible business decision (Westerns haven't been popular in decades, so to spend $200 million on one made absolutely no sense), and kinda racist, but the harsh word of mouth that the film arrived with seemed undeserved. It was probably the summer's most fun blockbuster (it was certainly its weirdest), and Armie Hammer really does have the makings of a proper matinee idol.
---
Ryan Finnigan
1. (Tie) - The Act Of Killing/Upstream Color
2013 has been an innovative year for narrative film and scholarly buzzwords such as 'transcendental', 'formalist', 'surreal' and 'lyrical' have been thrown around to describe releases including To The Wonder, Stoker, Computer Chess, Gravity, A Field In England and Only God Forgives to name but a few. Put simply, I feel that this comes down to the fact that this year, a number of films have been carefully considered aesthetically, with a focus on structure, editing and an emphasis on visual storytelling. For me, no film stood out more in this sense than Upstream Color, which was so elegant and simple in its complexity that I viewed it with the open mouthed awe and wonder of a child.
Earlier this year, I named The Act Of Killing as my film of Doc/Fest 20. At the time, I described it as "Shocking, chilling, absurd, horrific and bizarre, (it is) unlike anything you'll ever see and is essential viewing", which hasn't changed over the space of the remaining year and the documentary remains the most powerful film of 2013.
3. Computer Chess
4. To The Wonder
5. Spring Breakers
Special Mentions: Stoker, Before Midnight, Museum Hours ,The Moo Man and Furever.
Scene Of The Year: As bogus as it may be to name a scene from one of the above films, James Franco stole the show in Spring Breakers and the Britney Spears Everytime performance was the most surprising, outrageous and actually, kind of witty scene in a film full of instantly memorable quotes and moments.
Biggest Disappointment: Pacific Rim - All of the character development, logic, acting chops and emotion of The Room thrown into some uninvolving CGI action. Pacific Rim actually made me nostalgic for Attack Of The Clones and I genuinely hold more affection for Asylum's Atlantic Rim.
Biggest Surprise: Byzantium - An adult, sultry and compelling vampire drama with a fine British cast from Neil Jordan at a time when monster movies are made largely for children and without any of the intellectual and emotional weight of say, the 1930s Universal monster movies.
Best Performance: Kristin Scott Thomas - Only God Forgives. Although perhaps undermining some of the more 'worthy' performances of the year, KST was completely outrageous, against type and utterly despicable in a delightfully repellent role and all power to her, I say.
---
Grant Phipps
1. Upstream Color
Shane Carruth's return to film after a nine-year interval is nothing short of glorious, as he poetically composes a masterpiece out of the genre remnants of his low-budget debut, Primer. This more surreal head-trip evolves into an epic romantic dream that traces a cycle of human abuse, disconnect, and redemption to nature and Thoreau's Walden. Its hypnotic movement and bleeding effect achieved through the acute editing of Carruth and David Lowery invoke religious devotion. Their attention to sound and image is unparalleled in cinema, building upon Terrence Malick's spiritual methods.
2. The Act Of Killing
Joshua Oppenheimer's offbeat and intricate documentary is one of the most eye-opening experiences of the year, an essential perspective on humanistic versus depraved perceptions in the postmodern world. Indonesian killers Anwar Congo and Herman Koto (among others) reveal just how distanced they are from heinous acts they once committed in their consideration of violence as role-playing Hollywood dramatization. In cinematic fashion, these murderers are afforded the opportunity to stage increasingly elaborate scenes of their own executions that range from brutal realism to surreal pageantry in the ultimate effort to psychologically confront their crimes.
3. Nebraska
Alexander Payne returns to his native state with a companion to his 2002 film, About Schmidt. Where the former concerned a widower unearthing his wife's past and dealing with spiritual and physical isolation, the focus here is simultaneously broader and more confined. An elderly father's onset of dementia and unwavering determination to remain independent propel the larger realization that modernization has, in many ways, decimated the rural community. The gray tone mirrors the black and white photography, and yet the film possesses this slightly surreal, almost Simpsons-esque humor in its child-like quest evolving into a meaningful American Gothic portrait (father Woody Grant reverse-references the Midwestern painter) by its end.
4. Beyond The Hills
Cristian Mungiu filters a tale of unrequited love with haunting verisimilitude through sociopolitical commentary on the recent proliferation of Christianity in Romania. Opening with an emotional reunion between two women at a train station, the film turns to the daily life at New Hill Monastery where Alina must adjust to the new path Voichita has sought as a nun. Unable to come to grips with Voichita's divine concerns, Alina violently lashes out in desperation, committing blasphemy after blasphemy to discredit religious authority. But the most heart-breaking scene in cinema all year is acted through simple gestures, as Alina reaches out to touch Voichita's shoulder, but instead of a human embrace, Voichita insensitively pulls away to pray. The clash of traditional and contemporary mores helps define Beyond The Hills as an indictment of religion as a panacea.
5. In The House
François Ozon's clever literary puzzle about a couple who feed each other's obsessions - high school language arts teacher Germain Germain (surely a Lolita reference) and his student Claude Garcia - is a dedication to the all-consuming nature of the story itself. Germain goes to increasingly extreme lengths to encourage Claude to infiltrate a classmate's "perfect family" to develop an ongoing provocative narrative; however, Claude's initial manipulative plan has repercussions that blur the lines of reality and fantasy. A scene at an art gallery involving Germain's wife Jeanne reinforces this innovative idea of novelization happening simultaneously with the visual component of a film. In this way, In The House is a singular cinematic experience.
Biggest Disappointment: To The Wonder
Considering my adoration for Upstream Color, it's a shame Terrence Malick's To The Wonder is nothing wondrous at all - a restlessly vacuous and incomprehensible journey to nowhere. There are barely characters, plots, or themes. Equivalent to a disconnected brainstorming session dragged out for over a hundred minutes, Malick continues to explore his fetish for capturing emaciated women twirling or stretching skyward in rural fields during the magic hour. Instead, he could have developed something coherent about emigration or displacement in a foreign country, as the characters suddenly jump between Paris and the American South in the first fifteen minutes. To The Wonder is just emotional and spiritual exploitation from beginning to end.
Favorite Scene: Short Term 12
While there are numerous problems with its concluding act, Destin Cretton's film is remarkably intimate; in Short Term 12's best moments, it demonstrates the exorcism of our demons through art. Most everlasting is the rapport between self-destructive teenager Jayden and her foster mentor Grace. Struggling to confide in someone, Jayden shares a story that accompanies ink/watercolor drawings of an octopus and a shark. The frailty in her voice discloses a relationship without the need for literal confession. More specifically, her words in this allegory speak of loneliness, helplessness, and destruction as life's aggressors are often hiding themselves in plain sight. Before Grace even summons the courage to open up to Jayden about her own experiences, this sisterly scene conveys more than a traditional monologue, visceral image, or destructive confrontation could have.
Unjustly Shunned: From Up On Poppy Hill
Its thematic aspirations do not match its physical beauty, but Gorō Miyazaki's animated film suitably fits into the Ghibli canon as a nostalgic 1960s period piece that harnesses a distinct subset of idealisms. Two fated students of Konan Academy, Shun and Umi, meet in the port of Yokohama and develop a reserved admiration that blossoms into devout affection. Perhaps the reasons for audience dissatisfaction stem from the lack of mythological magic prevalent in Gorō's father's work (the legendary Hayao Miyazaki), but From Up On Poppy Hill never pretends to be a fantasy. There are slightly underwritten elements, but the jazzy pop music by Satoshi Takebe emotionally elevates this sweetly simple story.
---
Alan Shulman
1. Only God Forgives
No one is going to replace Stanley Kubrick, probably the greatest film artist the movie business ever produced, but I was excited to see Nicolas Winding Refn actually attempt to pick up the mantle and try to make a film that would challenge audiences with uncomfortable observations on human nature, while delivering the cinematic goods in shot after shot. Like Stanley said, real is nice, interesting is better. I fear Refn has offended the delicate sensibilities of the media intelligentsia by depicting violence that didn't make them feel better about themselves, but that's called taking real chances. Mark my words, like most Kubrick films panned upon release (Barry Lyndon anyone?), this film will gather a following in the coming years, and its greatness will eventually be taken for granted.
2. American Hustle
I vividly remember the Abscam scandal, watching the 6 o'clock news every night as a teenager growing up in Philadelphia in the late 70s. My understanding was superficial, but I can assure you it didn't go down anything like this. So what? O'Russell's film is consistently exuberant, and he manages to coach, not just good, but excellent performances from a talented ensemble cast. He even made me like Christian Bale! Lots of laughs with something serious to say about friendship, loyalty and love.
3. The Act Of Killing
You probably won't believe what you're seeing after the first 10 minutes or so of this incredible documentary on and partially, by, the members of Indonesian death squads from the 60s that systematically tortured and killed communists, subsequently becoming heroes in their own country. It's this vaulted status that lets them describe and even re-enact their "crimes" with impunity. I put crimes in quotes because this film makes you question the very notion of justice, crime and punishment, in a society which sees events from a wholly different perspective. The very definition of unsettling.
4. Stories We Tell
Sarah Polley's search for her roots becomes a meditation on memory and loss. Almost as much a fiction film as a documentary, with extensive reenactments of what people recalled happening. Is the truth in there somewhere or will it always elude us? With actors and directors telling the stories and acting out the past, it's bound to be high on the meta-meter. This is a very personal story that is universal in its desire to know where we came from and how we got to be who are.
5. Before Midnight
I'm going to give this a nod, not because I loved it, which I didn't, but because its heart and head were so firmly on the right place. These folks are at least trying to say something and explore real adult concerns in a real adult way, and should get some credit for the effort and the relative success of the whole enterprise. I'll never be totally sold on Hawke, but Delpy and Linklater more than carry the slack.
Biggest Disappointment: Drinking Buddies (unlike Much Ado About Nothing, much ado about nothing)
Biggest Surprise: Philomena (supposed to be the kind of movie I hate, but virtually slays the cynic in you)
Best Performance: Dare I say Christian Bale? He made me believe.

31 December, 2013 - 00:42 — No Ripcord Staff