Music Features
Local Natives (Interview)
By Craig Stevens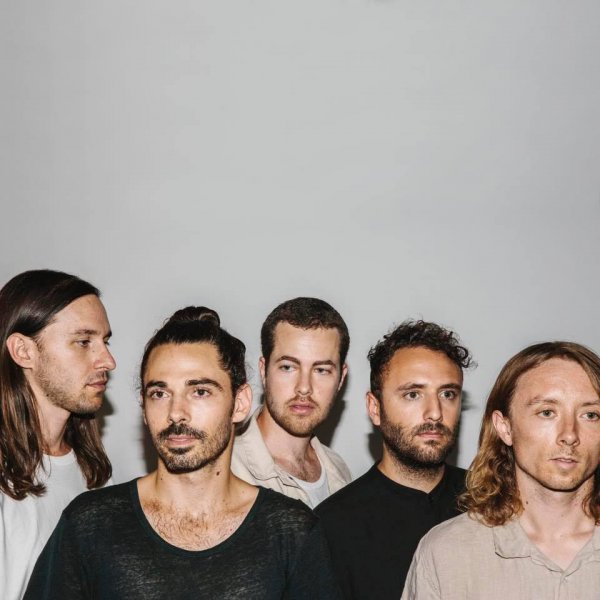 California's Local Natives are currently embarking on a worldwide tour in support of their third critically-acclaimed album Sunlit Youth, released in early September. With a 29-date US leg completed at the end of October, this month, the indie five-piece take to Europe, with a relentless touring schedule that takes in 20 dates in just 26 days.
Ahead of their set at Bristol's Motion, Craig Stevens caught up with Taylor Rice and Matt Frazier to discuss how to cope with life on the road, festival plans and ping pong.
You've been on the road touring Sunlit Youth for a couple of months now, so you're very much mid-tour, I suppose. How has it been touring this time around?
T: It's been really good. Playing these songs felt so natural live, right away. When we were making the album, we didn't overly analyse what we going to do with them live. Every time you go to tour after making a record, you have this moment of thinking "how is this going to translate live?". But playing this album has been super-great. And it's awesome to now have three albums to choose from when we're playing live, we can really craft a set out of those three records.
From reading online, it seems as though the creative process for writing this album was very different to the first couple, travelling all over the world to write and record?
T: Yeah, I would call it an evolution in our songwriting process. We really wanted to throw out the rule-book of how to write a Local Natives song; this is how it has to come together. We're all producing on our own a lot more, being more free and experimental, whether that's incorporating an R&B or hiphop influence, or Fleetwood Mac combined with electronic music.
Where do you find that a lot of your influences come from? Does what you listen to influence the way you write?
M: I think so, definitely. We were listening to quite different stuff this time around. I remember Ryan talking about Villainy, the first song on the new record. He was on a plane and he wasn't even writing a Local Natives song, per se. He was just interested in making something that sounded like something he was interested in at the time. And we were like "yeah, this is awesome, we can totally make this into a song" so it definitely bled into the songwriting process.
And who are you listening to at the moment?
T: Who even am I listening to right now? Gosh, I've just been listening to election coverage, no music! Less music-listening time, more frantic article-scrolling lately!
M: But during the record-making process, there were some definite go-tos.
T: Yeah, Jon Hopkins' record Immunity was one that we all latched onto. And we really like Kanye's records. I say that even though every single musician has cited his last couple of records as an influence! They're just really bold production-wise, and really fun and adventurous. Currents was a favourite of mine too, the Tame Impala record.
Going back to touring for a second, I was looking at your touring schedule...it's intense! It started mid-August and it runs through to the end of November with further dates in the States in December. How do you cope with such a long touring schedule?
M: We're pretty notorious for probably touring harder than we should in the past. So we're kind of used to it at this point. But we're trying to tour smarter this time around. It's little things like after six weeks touring the States, we went home for a couple of days off. Rather than jumping straight into Europe, having a couple of days off for a reset goes a long way, just to catch your breath. We used to do this thing where we'd go for ten months straight, and by the end of it you're a shell of a man. You can barely make it through the shows because you're just physically and mentally exhausted.
I think that a lot of fans don't really appreciate just how the constant travelling, the not-really-knowing-what-day-it-is, not getting a decent meal, even not getting to see your friends and family, how it tires you out.
You mentioned the change in touring habits over the years. The first time I saw you guys play was on the NME Radar Tour back in 2009…
T: At the Thekla?
At the Thekla, yeah, good memory! Aside from the relentless nature of the touring, what are your memories of touring at that time?
M: That tour was the first time we ever went overseas.
T: It was super-exciting. And when you're touring for the first time, it's like you have an immunity shield. Pure adrenaline and excitement gets you through not sleeping for months on end and going crazy, going out after every show and celebrating. It was so fun. Every kid's dream who starts a band is to be able to tour around the world.
And by contrast, what do you do now after a gig?
T: Now, it's so much more mellow. The key to touring is to focus on balancing very simple health dynamics that people take for granted. So it's eating well, sleeping well and exercising. Those things are so hard to do on tour. For example, we've prioritised getting meals sorted for after the show because otherwise the only thing that's available is pizza. And eating pizza every day for two months straight will destroy your body! It's just planning a little bit, being a little bit of an adult. When you're on tour, it feels like the best job in the world in certain ways. Our job is to travel around the world and play music. But bringing some routine and planning to it is vital. Working out is important, Matt's the best at it. He runs six times a week in the morning. And I've been trying to do that too. But it can get hard, if you start to get sick.
Are you fighting something now? Your tour manager mentioned that you're struggling with your voice.
T: Yeah, totally. I got sick at the end of our New York shows, at the end of the US run. Usually, it's fine, because an adrenaline boost gets you through the show. You feel miserable for 23 hours of the day, and okay for the one hour of the show. So I'm getting over it, but we went out after our show in London last night and I feel now that my body was telling me "no, you're not ready to go have a night of drinks and ping pong"! Which is what I chose.
M: Sometimes you've got to choose ping pong.
Gorilla Manor was a self-funded release. With the benefit of hindsight, is self-funding something that you would recommend to bands starting out now, who are looking to put out an album?
T: Definitely, yeah. It's not easy to do. We got really lucky with a sync for a TV show. At that time, we had made part of the record but we got a sync which gave us a few thousand bucks and which paid for the second part. We scrounged together, everyone was working paid jobs. But it was so important because self-funding provides so much freedom. The biggest thing for any new artist is not to wait around for someone to give you permission to go ahead and start to make music or to share it or to play shows. If you do that, you're stuck waiting. The Internet has allowed us to take music more into our own hands and share it.
Do you think that the album format is still the best way to go for new bands, at a time when some people would argue that the format is becoming less relevant with more people turning away from albums and towards playlists?
M: It's an interesting time for sure. I feel like that's hard to answer. We're still definitely a band that cares a lot about creating an album, creating a piece of work. But everything's so immediate now, people are so hungry for music all the time and equally get turned off very quickly.
T: I think for pop music, you don't need an album. So I think it depends on what kind of career you're looking to have. There's something about making a body of work that I don't think you can do by just releasing singles whilst you tour. For us, the logistics of what it is to tour, it takes so much. If you can record and release your best work whilst you're touring, more power to you. But for us, diving into making a record is not something we can do whilst on tour.
That said, I've read that you wrote 50 or 60 tracks for Sunlit Youth, and I imagine that you've recorded a fair chunk of those. Have you ever considered throwing out an EP of off-cuts?
T: We've considered putting some out as singles actually. I don't know, why an EP is not fully appealing to me, for some reason. But I think we are considering maybe having some single releases.
Turning focus back to Sunlit Youth, and Dark Days in particular, which I think is probably my favourite track on the album. I was really curious as to how the collaboration with Nina Persson [lead singer of The Cardigans] came about?
M: It was a Hail Mary!
T: We'd made Dark Days, we were done and we were going to mix. But we really wanted the song to be a duet. It's got a romantic, nostalgic feeling to it. So we made a list of the women that would be awesome to have sing on it. Nina was at the very top of the list. Ryan and I were huge The Cardigans fans. Her voice is so beautiful and iconic. She was our number one. So I wrote her an email out of the blue. I said "hi, this is Taylor, how's it going, Nina?" I told her about the song and what it was about and why I thought she would be great to sing on it. She wrote back the next day to say she would love to, and that she loved the song. It was incredible. We Facetimed with her from Sweden and she recorded her vocals in her home studio. And then we got to meet her when she flew out for our hometown show at The Greek in Los Angeles, to perform with us.
And you've also collaborated with Little Dragon on the album as well, another Scandinavian act.
M: Yeah, we've been fans of Little Dragon for some time now. We've crossed paths with them a little bit, and met a few of the guys doing festivals and we're now label-mates with them in the States as well. So yeah, we're big fans of them and so having them work with us on Jellyfish was really cool.
You mentioned festivals, and you've played a fair few this year. And a lot of smaller, cool festivals, like End of the Road, but not too many bigger festivals. Are you targeting more of the bigger, more traditional festivals for 2017?
T: I think so, yeah. We're certainly shooting for it. The album came out in September 2016, so we'd prefer to play bigger festivals once the album's been out for a bit.
Well, I don't know if you guys are aware but there was a list of artists rumoured to be playing Coachella 2017 published in the last 24 hours...
T: Was our name on it?
Yeah, your name was on it. [laughs] That's news to you, is it? How does it work, is it fluid, do you fit things into your festival year as and when they approach you?
T: Yeah. We have our booking agents. Festival season gets tricky, because you want to do the US run and then the Europe run but you often end up having to bounce back and forth, flying over the Atlantic multiple times in a summer. But festival season is really fun, I love doing it.
Do you have festivals you'd recommend?
T: Oh yeah, we have festivals we'd recommend. I'd recommend Fuji Rocks, outside of Tokyo. We've played that twice. It's a gorgeous setting in the mountains. And being in Japan is such a different culture. It's interesting; the fans are ultra-polite, bringing us all these gifts perfectly wrapped, but then the audience goes really crazy when the music starts.
M: That's one of the ones at the top of my list. And it's been mentioned a few times but Sasquatch in Washington, three hours from Seattle. It's a little smaller. It's at a venue called The Gorge, which looks like The Grand Canyon, this huge ravine. You're on the edge, in this most beautiful setting. Glastonbury's crazy. And Primavera in Spain.
T: And another smaller UK one that we really love is Latitude Festival.
M: Yeah, that was the first festival we ever did, in 2009, so that one's a very special festival for us.
Thanks to Taylor and Matt for taking the time to talk to us at No Ripcord. Details of the band's remaining European tour dates, including details of how to buy tickets, can be found on their website, http://www.thelocalnatives.com.
6 November, 2016 - 16:26 — Craig Stevens