Music Features
Quick Takes (November 2017)
By No Ripcord Staff
This is it! For this final Quick Takes of the year, Carl and I have decided to do things a little bit different. Given how this month has featured a good amount of releases, which isn't usually the case, we've decided to split our picks with selections from the months of November and December.
And we kept things either enthusiastically positive or spectacularly negative. Carl was quite taken by Nabihah Iqbal's stellar debut full-length effort, a record that I feel will get unfairly ignored since every major publication is done compiling their year-end lists. Meanwhile, the stark contrary forces coming from Bibio and Godflesh made for two very different moods, but they were both equally as compelling. And I just couldn't resist writing about one of, if not, the worst album of the year.
Just like last year, we're taking a short break. We'll be back in early February with our picks for January 2018, but until then, keep your eyes peeled for more great features and, of course, full-length reviews. And it does bear repeating: you can always reach us on facebook, or on our official twitter page.
Happy Holidays! - Juan
...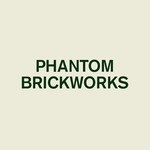 Bibio
Phantom Brickworks
(Warp)
Stephen James Wilkinson's latest transformation is maybe his most radical in over a decade. Wilkinson, who also goes by Bibio, has long experimented with many different forms of music, most of which have split the difference between glitched-out electronics and soulful samples. But nothing he's ever done sounds quite like Phantom Brickworks, an hour-long-plus suite that tempers his over-stimulated creations in favor of a tranquility that imparts a feeling of retreat. Wilkinson's haunting compositions flow in more of a neo-classical style, as he etches together slow and meditative piano improvisations over chiaroscuro drone passages with a geographer's sense of wonder. His minimalist approach resembles that of sacred music but with nary a chorus in sight, as he fills those open spaces with clear strokes of hypnotic repetition. Entrancing in its stillness, Phantom Brickworks solidifies Bibio as an artist of remarkable versatility. [8/10] Juan Edgardo Rodríguez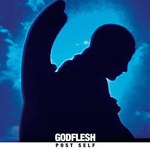 Godflesh
Post Self
(Avalanched Recordings)
The comeback record has become something of a rote strategy for musicians who seem unsure about themselves. Demand usually calls for bands to reform, but in Godflesh's case, their motivation was rooted in the desire to top, or even equal, their previous output. Coming after 2014's assaultive return-to-form A World Lit Only by Fire, the Justin Broadrick and G.C. Green-led industrial institution stand for a more experimental reworking of their hard-hitting, clanging ferocity on Post Self. Featuring their typical onslaught of mechanical beats and smoky soundscapes, most of Post Self transitions from once guttural growl to the next as their programmed arrangements contort into sneering, yet angelic interventions. Even when they press on with suffocating force, like on the commanding No Body, Broadrick futzes with some gleaming elements taken from his Jesu catalog to slightly calm the senses on their dirge-like refrains (No God, The Infinite End). Hell, even Parasite could be considered a pop song by Godflesh's standards judging by its satisfying driving hook. Simply put, Post Self is another stunning addition to Godflesh's uncompromising thirty-year run. [8/10] Juan Edgardo Rodríguez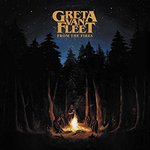 Greta Van Fleet
From the Fires
(Republic Records)
There's already talk about how Greta Van Fleet are the new saviors of rock n' roll. Except that the kind who hold that kind of opinion like to believe that classic rock just wasn't the same after the mid-seventies. So in their defense, they try to defend a young band who plays a facsimile of their favorite bands so they can dig deep into their nostalgic remembrances. Well, that's them. But what do I think about Greta Van Fleet? Unnecessary, to say the least. Why should I listen to Safari Song when I can listen to Rock And Roll for the umpteenth time? But they're playing the blues, man, and obviously, nobody does that anymore. And really, even on a good half of From the Fires, the fast-tracked major label signees don't even try to really emulate their esteemed deities' dangerous sexuality and, instead, bafflingly resort to half-assed emotional platitudes. I'll give it an additional point, just because I kinda like the opening chord progression on Edge of Darkness. [2/10] Juan Edgardo Rodríguez
MMODE
MMODE
(Gone Fishing Records)
Belfast sibling duo MMODE's self-titled debut is a charmingly understated record and is a welcome ray of sunshine dropped during a particularly cold snap here in the UK. It hasn't been smooth sailing for Lucy and Thomas Gaffney in the run-up to its release, either. After Thomas was struck down by a sudden illness, the duo returned to their home city from Liverpool – where they had scored a record deal as Southern - to allow him to recuperate. From here, the siblings reset their creative blueprints and began working on the songs for what would become their debut album from a makeshift studio in their mother's garage. The songs are palatably arranged, shrouding a delicious pop sensibility with a lo-fi, psychedelic veil, while Lucy's gentle, self-assured vocal is kept on a generous tether by a cadent rhythm section. The effect is enticing, and results in a strong debut LP. [7/10] Carl Purvis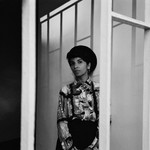 Nabihah Iqbal
Weighing of the Heart
(Ninja Tune)
On her debut EP under her given name, the artist formally known as Throwing Shade emerges from the haze of her earlier work to concoct a hugely immersive record. Nabihah Iqbal is devastatingly precise throughout Weighing of the Heart, icing agitated, scuttling beats with liquid-gold guitars that swim with their dorsal fins protruding from the surface. Her use of synths act like touchdown zone lights on a runway, guiding the gorgeously intricate arrangements in the hours of darkness. There are plenty of nods to the sparse post-punk of New Order and the shoegaze of Souvlaki, but despite the archived nature of its influences, the record manages to sound venturous and recklessly current. Iqbal's use of chiming guitars, serendipitous synths and scurrying beats results in a record that is opulent in its warmth and sparklingly neat. [8/10] Carl Purvis
QTY
QTY
(Dirty Hit)
New York duo QTY – who expand to a four-piece live – have dropped an extremely likable, quintessentially East Coast-sounding debut record. It's an early-noughties indie lovers dream, tipping the scales at a dainty 31 minutes and racing itself from start to finish. With lead-vocalist Dan Lardner's pithy, languid delivery and Alex Niemetz's sharp-clinched guitar riffs, obvious hallmarks of The Strokes are hard to ignore, and some of the tracks on QTY's impressive debut would slot in easily to their iconic debut Is This It. In fact, the garage-drenched motif boasts more than the odd nod to iconic New York bands of the past, with the likes of The Velvet Underground and Blondie's sounds making themselves heard throughout. Their blueprint is a simple one, and QTY pull it off by being airtight from beginning to end, while the production work of Suede guitarist Bernard Butler seasons the deliciously retro sound perfectly. [7/10] Carl Purvis
10 December, 2017 - 04:35 — No Ripcord Staff