Music Features
Superfood (Interview)
By Craig Stevens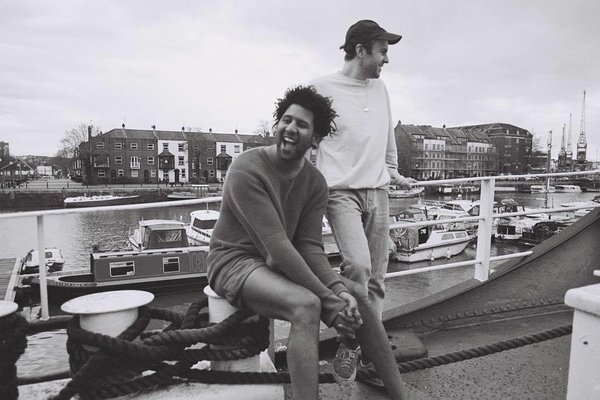 Dom Ganderton and Ryan Malcolm of Superfood are sitting top-deck aboard Bristol's famous Thekla - once a working cargo ship, now one of the city's best music venues (maybe even the best, certainly the only one adorned with a Banksy).
Tonight's gig, with new Dirty Hit labelmates Pale Waves and King Nun, is the band's thirteenth show in just 14 days. It's a tour to showcase and celebrate each of the three new signings to the Dirty Hit record label - a label co-founded by the ex-England football player Ugo Ehiogu, who tragically died of a suspected cardiac arrest last week.
Dirty Hit are spreading the word of their new recruits with an intensely packed tour covering the breadth and depth of the UK and Ireland. Dom and Ryan appear excited, as they confirm how much they are enjoying being back on the road:
It's been great to start touring again. It's been a bit of a shock to the system, jumping in a van and sharing a room with three different people every night. It's been great, though. Everyone's in the same mindset. We've all just signed to this label and we're all out to prove something, to do ourselves proud. And I think because it's billed as a Dirty Hit tour, it doesn't feel like we're headlining as such. Everyone's literally in the same boat!
The tour represents the first live dates in a while for Superfood, a band that released their debut album Don't Say That back in 2014. The only track to be released to fans so far, Double Dutch, points to a very different direction from their debut.
All the newer songs have more of a groove to them, they're a bit more "in the pocket". But live, we've adapted the older songs to that kind of feel too. Obviously, they don't sound a million miles away from the originals but we're playing them "as" the band that has written the new album, we're not just going out and doing what we did the first time. There are a few surprises in there as well. Naturally, as well, with a new line-up - a new drummer and bass player - it does gel even though the genres are quite different because they're played with the same band.
I think what we set out to do this time was to make an album that we really backed and could listen to for years to come. When we did the first album, we weren't drawing directly on our influences and also, we got a bit carried away. When we started, we wanted to make something that was inspired by Beck, Gorillaz, more like processed beats in our bedroom. And then when we got a band around us, we decided to get in the studio for two weeks and thrash something out, all of us in a room together, we lost sight of that. So when we came to record this album, we decided to set out to do what we wanted to do originally. We decided to spend some time, not fall into the trap of just being another indie band.
Also, we had way more time to work on this than we did on our first one. Our first album, we just banged it out really. And on this one, we had eighteen months writing and just got in the swing of it.
I think we're going to put another two singles out before the album gets a release. And maybe do some videos. We really want to nail it with the video for the next single. We didn't do one for Double Dutch because it was more of a taster.
A few weeks after releasing Double Dutch, the band released an alternative version of the track, entitled Double Dutch (Dubble Dutch):
The label asked us to do a spin on it, if we could. It hadn't been created until they asked us to do it. We were looking at asking people to remix it and then we decided we could have a go at doing it ourselves. We got in a studio for a day, went in and that's what came out.
It was quite easy, it was fun. Whenever you get a remix through, you press play with your eyes closed, wondering what they've done to it. But we had a clear picture of what we wanted to achieve. We wanted to make it a bit more spacey.
We'd love to do more remixes. With the first album, I don't think we were really the kind of people you'd look at to do a remix. What we want to get across is that, as much as we love touring, it's definitely about the studio for us. It's about sitting there for hours and hours and pulling teeth out. It's been strange because we're so used to the studio now, getting used to recreate the songs now, it's a completely different world.
Superfood's second album is currently being mastered, and is due for a release at the end of August / start of September. With such a long time between recording and release, is there a tempation to constantly revisit it and tweak it, "Life-of-Pablo-style"?
I've got loads of shit that I'd love to do to it. I keep thinking "why didn't I play that chord there, or change that". But you've got to just let it go. I'm really proud of it, it sounds great. But you can tweak and change from now until the end of time.
As much as we loved it, it wasn't our intention to go away for as long as we did after the first album. And it got a bit ridiculous in the end. We would say "scrap that song, re-record it. Scrap it, re-record it".
We definitely haven't rushed it, which is great. Now, I can't wait just to get it out. It feels like a new chapter. After this, we can spring wherever we want, we could go in any direction that we want.
And as Ryan went on to explain, that direction could be another curveball.
I'd love to collaborate with loads of people. That's something we're really going to look at for our next album, see if we can go down that route. We could maybe even put out a whole album of collaborations. We've had drunken chats with Isaac from Slaves. We've got some songs that we're just not cool enough to sing. Like a heavy hip-hop tune with some guy screaming over the top. I really want to do that.
But before then, the band have a summer of festivals lined up, including Y-Not, Reading and Leeds, Truck and Festival No. 6...
Festival No. 6 is amazing. My parents have been going to Portmeirion ever since they got married. It's this beautiful village. And I went to Festival No 6 with them last year and it's so fucking mad. There's a big dance element there, when the lights go down, the house music comes on. You're in this weird village that this architect's made for his wife. And you're off your face listening to techno.
In terms of favourite festivals, however, there's one that rules them all...
It's Glasto, isn't it. It's just THE festival. You can almost forget about the rest.
When we played two years ago, it was the first time we'd been to Glastonbury and we'd just played a festival in Holland. We drove for fifteen hours straight, we told our tour manager that we needed to get there as soon as possible. We got absolutely messed up. I slept in my mate's tent and he gave me a Valium to go to sleep. I didn't wake up until 1pm and we were on stage at 2pm. I thought I'd fucked it, I remember running to the stage. That wasn't very professional. It's all changed, we don't do that any more!
Our thanks to Dom and Ryan for taking the time to talk to us at No Ripcord. For more information on Superfood, including details of upcoming live dates, check out their website: superfoodjunk.com
27 April, 2017 - 00:36 — Craig Stevens