Music Features
Wolf Alice (Interview)
By Craig Stevens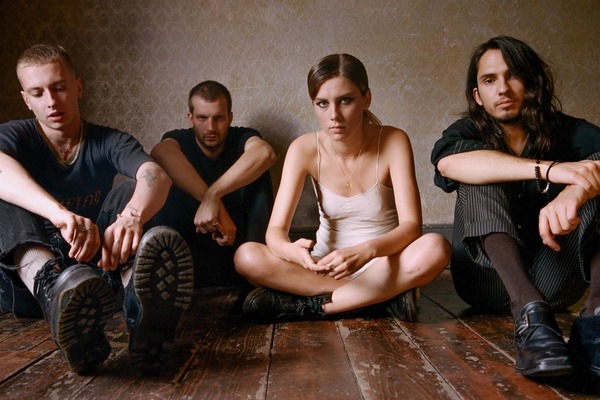 Ahead of the release of the excellent Visions of a Life on September 29, and a tour of Japan, the US and Europe starting next month, Wolf Alice's bassist, Theo Ellis, took some time out to speak to Craig Stevens at No Ripcord.
NR: I wanted to start by talking about Visions of a Life. I was only sent it yesterday evening so I've only had chance to listen to it a couple of times but I already love it. I love the confidence and the diversity; there are so many different sides to Wolf Alice on this record. How did you end up with so many different sounding tracks?
I think it's always been an aspect of us as a band. The eclecticism, in terms of the different styles. When we started writing, it was the tail-end of us touring our first album. We were pieced together in a small room in East London where we had a lock-up, where we hid away for six months realising all these different sketches we'd created whilst on tour. In terms of the variance of styles, we never wanted to sit down and make one type of song. It's never been, "we'll make an indie song now", or "we'll make a fucking hiphop song". It's always a case of whatever's best for that song at that point. That's just the way we work. We don't want to limit ourselves to being one type of band.
NR: It's interesting that you referenced hiphop just there, because looking at your personal Twitter feed, you retweet and comment on a fair amount of hiphop and grime. I've seen references to J Hus, Skepta, Drake and Chip. Is there any crossover between the music you enjoy listening to personally and the music you make as a band?
I think that all music influences your output. You don't really listen to our music and think of 67 and J Hus, it's just not in any way the same. I suppose that's what I've always listened to since I was a kid so the Twitter references is more me just expressing that I'm a very big fan of those artists. There are some really great albums at the moment. It's a really good time for UK rap. But I'm sure that because of the beat-writing and compositions, it must influence me in some ways.
NR: It's only a couple of years since you released My Love is Cool. Was releasing another album relatively quickly something that you'd always planned to do, or did it come about organically?
We rarely plan anything rigorously but I think we did want to put something out quickly. We were going to make something even quicker than this at one point and I'm glad we didn't, because it would have been pretty shit to be honest. It was always on our minds that we needed to get straight into it. It's difficult to make a second record, as every fucking person tells you. So that was in the back of our minds as well. But yeah, when we realised we had that many songs coming together and showing promise, we thought we might as well. And it gives you something to focus on, especially when you come off the road for a really long time. You could easily feel spun out by the whole thing. So focussing on making a new record is really useful.
NR: Did being nominated for the Mercury prize for My Love is Cool add additional pressure when making this album?
Those are external factors that we don't have any control of; getting nominated for a Mercury or getting nominated for a fucking Grammy or whatever. It's very much out of our hands. To be honest, they're not the reason we make music in the first place. What was more of a problem was the personal pressure, that comes from us. As stupid as we may appear, we're all quite dedicated and strict and have high expectations of what each other can achieve, and what we can achieve as a band. And the pressure came from our own personal expectations of how great we can make this record and how we can progress as musicians and songwriters. So that was more of the scary pressure, from ourselves. And once we listen to something and realise we've got something we're truly happy with, it felt like everything else will hopefully follow suit. Whether we get nominated for a Mercury prize or not, it's not really up to us. It's up to fucking Jarvis Cocker, or whoever decides it all.
NR: You've just finished a tour of very intimate UK venues. How has the tour been?
Fantastic, so much fun. We love touring the UK. It's where we're from, it's where we cut our teeth. We got to play some venues that we played a long time ago, three years ago. We never sold out those rooms first time round - we had ten people and someone's Mum watching us. So to come back and have them busy was amazing.
NR: When you play those small venues, do you have to be really strict with yourselves about the amount of gear you take on the road with you?
If you were thinking about it in an intelligent and deliberated way, you would. But instead, what we did was we brought everything we owned and drove it around England!
NR: And how much do you own, how many guitars do you own?
I own three or four that are vintage, that are my basses. I've got about eight but I've got four that I love and play all the time.
NR: How has it been playing the new material live?
It's been great! Nerve-wracking to an extent, because we haven't played it before and no-one really wants to hear the new stuff. You never go to a show and be like "oh yeah, play the new shit!" Especially when you haven't heard it before. But it's been great to watch people react to it. They seem to be really enjoying it. And it's fun for us. We toured for so long playing songs off the first album so now, having those old songs but giving them a new lease of life because we've stepped away from them for a while, and then having the new ones interspersing them in the set as well gives everyone a breath of fresh air.
NR: I wanted to ask you a couple of questions about the secret sets you did at Reading and Leeds this year. How do the mechanics of it work, whose call is it to keep it secret? Did that come from you, did that come from Reading and Leeds, did it come from the label?
I don't really know, I think we just got offered the secret set. Our album isn't out and it's early days to be pushing something, so we just thought it would be exciting. Fingers crossed, we'd like to be playing as many festivals as possible next year, so this just sets us up to come back to that festival. It was cool. We all really jumped at the opportunity as soon as it was being spoken about. I think it came from Reading and Leeds, but I can't really remember.
NR: Did it feel different to a normal festival set? Was there more of an expectation, a different crowd?
It was midday, so really early. I think everything was a bit confusing at that point, being so early in the day. The fact that anyone showed up I was grateful for. It didn't feel too different to anything we'd done before. It was great, it was a really fun show.
NR: And how difficult was it to keep it a secret?
I did a bad job - I just told people! If you met me in person, I'd be like "yeah, see you at Reading, mate!" So not a great job, really!
NR: A lot of amazing UK bands struggle to break the States, but you seem to have a really strong US fanbase and your debut album charted well on the Billboard charts. What would you attribute your US success to and what advice would you give to bands looking to break the States?
I don't know if I have any advice to give anyone about touring the States, to be honest. I'm still figuring out how you do it myself! It's so big and quite intense to tour there as extensively as we do. It's a massive place and you have to spend a lot of time there if you want to get anything out of it. Hard work is how we did it. We toured there a lot. At one point, we did a two-month back-to-back tour there. It's such a big place and with guitar music, it's so important to go and play your music live to people, so that's what we did. We met up with a guy who promotes our records over there and he got us in the right place, playing the right gigs. But we're still chipping away at it. We're out there in December for a big run. We've got our biggest show to date in New York coming up. It's very enjoyable but it's a hard aspect of being a band from the UK, especially if you don't live in America, the amount of time we spend there is crazy.

Visions of a Life is released on September 29. Details of the band's forthcoming Japanese, UK, US and European tour dates can be found on their website, http://wolfalice.co.uk
17 September, 2017 - 23:44 — Craig Stevens