Music Reviews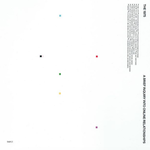 The 1975 A Brief Inquiry Into Online Relationships
(Polydor)

The 1975 start every album exactly the same way. But there's something more sinister about this latest introduction, a twisted, even deformed take on a salacious encounter by singer/songwriter Matty Healy that is fast becoming inconsequential. But what Healy wants from this playful exercise is for us to pay attention to how he says it rather than what he says. It may come across as a devious ruse, a shallow opportunity to convey art for art's sake. Instead, the English pop rock band are intent on predicting what comes after their time, at least, if they even try to make sense of how we currently function in the first place.
Healy, more than anyone else, knows that the themes found on their latest, A Brief Inquiry Into Online Relationships, must come from an anecdotal perspective. Even the slightest glance at the album title will tell you that The 1975 are intent on sharing their hackneyed, self-help statement as if making fun of the likes of inspirational writers like Dale Carnegie. They also might be deadly serious. But just like most of the band's past output, the emotional saga that is A Brief Inquiry ultimately finds a middle ground between empathetic guidance and truthful humor. There's a lot to cry about and laugh about when it comes to this idea of finding true love in the farthest reaches of technology, so why not give, gasp, actual human connection a chance.
In Healy's view, the rise of technological dependence is so embedded in our lives that it's way past the frightening stage. On the dancehall-informed TOOTIMETOOTIMETOOTIME, Healy looks into how the digital era broadens the gray areas when it comes to emotional affairs with an almost matter-of-fact indifference. Despite his more cynical views on the fickle nature of hookup culture, though, he's more of a romantic in disguise. He lets his guard down on Inside Your Mind, a sparse, chamber piano ballad about being so in love with someone that you'd do anything to get inside their thoughts. Mind also continues The 1975's streak of blending musical ideas that would otherwise get frowned upon by the most fastidious listener, given how it somehow manages to sound as if Peter Cetera hired Explosions in the Sky as his backup band.
There's no clear through line in A Brief Inquiry, as the band dares to take their pop-centered songwriting in unexpected directions. Still, they're well aware that they also have to play with focus-tested trends, so why not circumvent them to the point where they're almost unrecognizable? Which is why the trap-meets-ambient cut I Like America & America Likes Me is only a half-convincing ode to Soundcloud rap, though they do tap into those skittering hi-hats with pinpoint precision. The feeling is mutual. Given how both The 1975 and much of the mumble rap class share a love for emo music, it's as if they're bidding farewell to their foundational core before they entirely abandon it. On the other side of the spectrum, they also give a clever wink to open-minded "indie rock" listeners on the likable Give Yourself a Try, even if behind those mechanized synths and squealing, Disorder-like guitars lies a dark, yet sincere look into Healy's restless self-searching.
But even while exploring other sounds, The 1975 tend to sound more resilient and sure of themselves when they dig deep into the annals of eighties adult contemporary. The positively brilliant Love It If We Made It takes on so many dimensions during its brisk four minutes that it's almost overwhelming: on the one side it's a heedful protest - one that curiously channels the spitfire imagery of Billy Joel on We Didn't Start the Fire - and on the other, a sophisticated midtempo ballad that harks back to the stylish charm of Prefab Sprout. The teen pop-informed It's Not Living (If It's Not With You) is just as accomplished, but when paired up with the near-perfect melody of Love It, it sounds like a simpler, lesser version, one that sticks its schmaltzy guitars and gospel cries right front and center. It's a tough act to follow.
The 1975 have been working their way towards this moment since their debut effort, and on A Brief Inquiry, they up to ante to a staggering degree. It's far-reaching in scope but it's also conceptually uniform, a beautiful mess of an album from a band who is inching their way towards the imperial phase of their career. That's not to say that there are many sour spots throughout - the tepid jazz-meets-soul experiments or the sleepy acoustic interludes - where their overabundance of confidence ends up spreading them too thin. Still, this is also an atypical body of work which embraces a melancholic acceptance, a thoughtful look into how our heavily-automated lives, though beneficial in many ways, also distance us from each other. But behind the album's ambitions lies the true narrative of A Brief Inquiry - Matt Healy's maturation as a songwriter of keenly artful coherence.
30 November, 2018 - 05:10 — Juan Edgardo Rodriguez