Music Reviews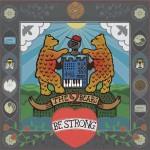 The 2 Bears Be Strong
(DFA)
Buy it from Insound

It was something of a foregone conclusion that music critics would collectively get very excited about Be Strong, the debut album from The 2 Bears. After all, not only does it come with a fairly strong pedigree - the group comprising of Hot Chip's Joe Goddard and DJ/former record company man Raphael Rundell (or, as he's known here, Raf Daddy) - but it concerns itself wholly with both the act of creating music and the art of appreciating it. Be Strong is the sort of album that exists not just as a record in its own right but as a prompt to investigate further recommended listening; it features a track about certified classic Reggae album Heart Of The Congos as well as numerous achingly cool vocal samples - including legendary DJ/producer/early 2 Bears champion Andrew Weatherall's rather unexpected warning against the dangers of E; its glorious title track sees Raf run through an impressive list of inspirational bands from "Wu Tang Clan" to "Steely Dan" (although their jumping from "The Beach Boys" to "The Art of Noise" is perhaps a tad more artistically dubious... and on a similar note, their mixing up of Kraftwerk references on Warm & Easy might raise the hackles of some particularly nerdy listeners - I may or may not be including myself in their number).
All of which might suggest that listening to The 2 Bears would be something of a dry experience, aimed solely at the musos, but the reality is far from the case as there's a definite warmness and sense of humour about the proceedings (no album that features the lyric "Love is lovely/And war is ugly" could be said to be taking itself entirely seriously). Despite the gay subculture inspiration behind their name, there's an easy, affable blokeyness, and even a sense of innocence to The 2 Bears with the guys seemingly far more interested in test match cricket on the radio than they are in sex. Even if Bear Hug's very Hot Chip-esque bridge offers advice for "If you're leaving with a bear tonight/For some loving in the pale moonlight", it really is, completely unironically, a song about having a friendly hug on the dancefloor. Although, on an unrelated note, it's also the closest that the album gets to divisive - it may have been referred to elsewhere on this site as "sublime", but the less charitable (including myself) might say that it flirts a little too closely with being a novelty dance record.
In particular, this laid back, essentially honest attitude manifests itself in Raf's vocals. Exceedingly rough around the edges (he's admitted that the original idea was to eventually replace them with something a bit more polished), he sounds more like a bouncer than a performer, yet when paired with the exceptionally euphoric, arms-aloft quality of the music, it creates a pleasing contradiction - rather like what The Beloved were getting at twenty-odd years ago. In fact, much of the album could be said to draw heavily from that era, as the house-style piano riffs of Work most obviously indicate. It's enough to convince you that, despite all actual evidence to the contrary, the zenith of all musical achievement happened somewhere in an anonymous provincial high street club in 1992. (Although opener The Birds & The Bees trades on a slightly older sense of glamour with its Chic-style guitar riffs; you can practically smell the cologne and leatherette.)
The end result is an album full of tracks that sound so warmly familiar that they instantly seem like old friends. It also, surprisingly, offers a more consistently entertaining listen than anything Goddard's main band have released thus far, suggesting that concerns he was stretching himself too thin - having been alternating work between this, the forthcoming Hot Chip record and his fledgling solo career - were ungrounded. All of which might merely be a more enthusiastic way of saying that they don't really have an original idea in their pretty/beardy little heads, but when the results are this witty, clever and (above all) fun, who cares about small details like that?
26 January, 2012 - 20:34 — Mark Davison