Music Reviews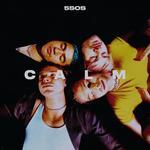 5 Seconds of Summer CALM
(Interscope)

If you look from the outside, it may seem like 5 Seconds of Summer are a group that has watered down their sound to make a play towards pop radio. Starting with a pop-punk sound (emphasis on pop), the Australia boy band had decent success with a combination of Good Charlotte hooks and punk in the same way that Sum 41 is punk. But as they continued to put out more, they started to lurch towards the pop in their genes until they released 2018's Youngblood, a pop-rock effort that didn't have much in the way of rock. Expanding upon that, their fourth album was announced with a series of terrible singles, proving that anything resembling grit had been sucked dry from a group destined to be forgotten in a few years. All of that is true from an outside perspective, unless you consider that 5SOS has never been a good punk group and has consistently been a fine pop group. Once you factor that in, CALM is the best album that modern Maroon 5 never made, featuring a handful of solid tunes, a few headscratchers, and some filler. In terms of 5SOS's career, it may be their best yet.
You wouldn't be able to tell that if you were looking at it from the outside though. The frustrating lead single, Easier, is both fascinating in conception and somewhat unpleasant in actuality. With a chorus containing a horrible falsetto and a pre-chorus containing irritating layered vocoder work, it seems easy to cast aside the song. But somehow, the clashing textures of the grimy percussion, liquid guitars, chunky distorted guitars, and blocky bass all work to back a goofy and self-serious feeling that barely works. It's an example of the production aiding poor writing, a motif that happens occasionally on this album. A similar thing happens on Teeth, a song fundamentally more unpleasant than Easier while still being an interesting curiosity. While there's some real intensity to Tom Morello's guitar work, the vocal melody on the chorus is one of the hardest things to stomach all year, basically ruining the entire song.
While those two songs are pretty terrible, they're surrounded by a handful of legitimately great moments and songs here. The surprisingly great Red Dessert kicks off the album with giant harmonies and a tense groove, immediately catching your attention. If you listen carefully, it almost sounds as if some Peter Gabriel snuck into the infectious chorus. With the thumping '80s drums and delicate snarl of the electric guitars, it's one of the most adventurous songs that the group has ever made. The album peaks about halfway through with the sugary pop of Wildflower, a WALK THE MOON-flavored song with stupid lyrics and a huge, MTV-ready chorus that's so good it feels like an accident. I guess it was a mistake considering it peaks here, but hey, a couple of great moments is way more than you should expect from 5SOS. By those standards, CALM is occasionally inspired, sometimes incredibly stupid, and most of all: surprisingly fine.
7 April, 2020 - 14:00 — Ethan Gordon