Music Reviews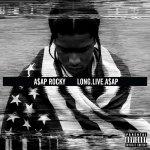 A$AP Rocky Long.Live.A$AP
(Columbia)
Buy it from Insound

Debut albums rarely arrive as fully-formed as A$AP Rocky's Live.Love.A$AP, let alone mixtapes. Cloud rap had been piquing the interest of blogs and websites for a while, but Live.Love.A$AP was the first release to, if not fully break into the mainstream, begin to permeate the consciousness of the indie music press. It was exhilarating and infuriating in equal measure – its woozy, dark production was unlike practically anything else in hip-hop, and A$AP Rocky announced himself as an emcee with a great flow. However, its range of lyrical themes was incredibly narrow, preoccupied as it was with A$AP's own good looks, his fondness for women and partying, and "purple drank," the cocktail of soft drink, Jolly Ranchers and codeine-heavy prescription cough medicine beloved by the Southern hip-hop fraternity.
These sort of imperfections are easily forgivable on a mixtape, which is expected to be a little on the rough and ready side, and you hope these minor issues will be ironed out in time for the full-length debut release. It transpires that Long.Live.A$AP manages to build upon the promise shown on Live.Love.A$AP in many ways, yet frustratingly the lyrical problems persist, and then some.
A$AP Rocky is often closely linked with producer du jour, Clams Casino, but in fact Clams Casino only produces two of the tracks here: LVL and Hell. The sheer number of producers on Long.Live.A$AP is enough to fear for the cohesion of the album, yet it holds together remarkably well, and A$AP's signature sound is well preserved. The slightly dulled, chopped and screwed codeine fug casts a dark and pensive mood over the whole record but is entirely immersive and actually becomes strangely comforting. Perhaps the wooziness and gentle deliberate bleeding of sound help smooth off some of the otherwise rough edges. It's also notable how slow the record is in places, as the beats lurch from one bar to the next, giving A$AP time to display his versatility and flow. You can draw comparisons to the zoned-out, solipsistic R&B of The Weeknd, but really A$AP Rocky is unique in attempting to bring this style of slightly stoned, horrorcore rap into a wider (un)consciousness.
The opening half dozen songs on Long.Live.A$AP are as distilled a picture of A$AP Rocky as you're likely to get. Sometimes, such as on the aforementioned LVL, the beats are so careful the track seems in danger of running out of momentum altogether, yet it never does. The second half of the LP is a little more tuned into traditional and popular hip-hop, yet it always retains something of A$AP. The biggest surprise is Wild For The Night, which is produced by Skrillex, and despite it having the unmistakable hallmarks of Sonny Moore all over it (in short, maximalist rave horns), it still fits in with Long.Live.A$AP's overriding mood. Basically, despite sounding like twenty police chases happening simultaneously, it kind of works.
While the production is as fresh and exciting as you're likely to see anywhere in hip-hop right now, lyrically it's a regression to less enlightened times. The accusation of misogyny in rap is hardly a new one, and plenty has been written about it in the past, but the levels displayed on Long.Live.A$AP are so startling it would feel like a dereliction of duty not to address them.
For A$AP and his pals, the world is their porno set. In A$AP-land, women fall into two neat categories with no overlap: "bitches" and "Ma." The "bitches" exist purely to sexually satisfy men and are more or less useless unless fulfilling that purpose. Witness recent single, Fuckin' Problems, and its opening salvo of, "I love bad bitches, that's my fuckin' problem / And yeah I like to fuck – I got a fuckin' problem." Add in a reference to A$AP being pretty and a line about "sippin' lean" and that would be a pretty accurate summarisation of the record's whole lyrical content. Fuckin' Problems features a raft of guest stars (who, incidentally, appear to love "fuckin'" just as much as A$AP, which is a happy coincidence) and even on a track so one-dimensional A$AP's vocabulary shortcomings are exposed, as both Drake and Kendrick Lamar manage to add something slightly more diverse to the party.
Of course, if you're a hip-hop fan, this kind of sexism comes with the territory, but this is striking enough to make the record an uncomfortable listen. If Mitt Romney really wants to find someone with a binder of women, he should give our guy A$AP a call. It's a race to the bottom for the most objectionable couplet, but it's currently a two-way tie according to the sensibilities of this reviewer between, "Tell that bitch, hop up on my dick, rolled up on her quick / In a six, tell her suck a dick, motorboat her tits" (Goldie) and, "It's a fact, she lives in my lap / On my Outkast, Daddy Fat, bitches on my sack" (Wild For The Night).
This doesn't entirely ruin Long.Live.A$AP because an album – even in hip-hop – is about more than just its lyrics, but it's extremely difficult to remove yourself from the more deplorable content. When a rapper like Kendrick Lamar can bring perspective, thoughtfulness and a knack for storytelling into his music, as demonstrated on the marvellous good kid, m.A.A.d city, it's incredibly dispiriting to hear fifty minutes of rhymes about guns, fashion, "sizzurp" and "hos". It's also a waste of a stellar roster of guest spots – aside from Kendrick Lamar, Skrillex and Drake, there are appearances from Santigold, 2 Chainz, Joey Bada$$, Big K.R.I.T., ScHoolboy Q and more.
So, how does Long.Live.A$AP earn itself a 7/10? Well, ideally there wouldn't be a score attached to this review, as how good this record is depends almost entirely on how palatable you find it. To break it down, it's a 9/10 for the production, beats and flow, and a 1/10 for the lyrics. Buried in there somewhere there's an unintentional personal revelation on how much the lyrics contribute to the overall quality of an album. The records will show a 7/10 and – such is the way of the world – a tiny proportion of people who see that will read the thousand or so words that led to such a score. Perhaps the score should be disassociated with the name at the bottom of the review; let's say it was written by Alan Smithee. Because, make no mistake, A$AP Rocky really does have a whole bunch of "fuckin' problems."
22 January, 2013 - 04:05 — Joe Rivers