Music Reviews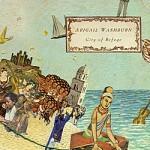 Abigail Washburn City of Refuge
(Universal Music Group International)

The third album from the American singer-songwriter and banjoist Abigail Washburn seems inoffensive at first but rewards on repeated listening. The influences present here include gospel, bluegrass and British folk, but her fascination and affinity with Chinese folk music is the most noticeable. Her pick-n-mix approach to various cultures is also reflected in the cover art.
The meeting of east and west is what helps Abigail Washburn's new music to stand out from that of her peers. Production duties are handled by Tucker Martine (Sufjan Stevens, REM, My Morning Jacket) who gives the music a sepia-tinted, early-autumn glow, and City of Refuge boasts contributions from an impressive list of musicians and singers including Bill Frisell and Viktor Krauss. String arrangements come courtesy of Jeremy Kittel of the Turtle Island String Quartet and Old Crow Medicine Show's Morgan Jahnig and Ketch Secor. Chinese composer and performer Wu Fei plays guzheng (an ancient Chinese zither) which gives an element of authenticity to the more oriental influenced tracks.
Bring Me My Queen is an early highlight, Abigail's claw hammer banjo style is punctuated by fiddle and complimented by an airy piano arrangement. The a capella opening lines of Dream Of Nectar have a beautiful simplicity which proves that sometimes less is more. As the song progresses, the layers of instrumentation which include brass and birdsong build, but the traditional Appalachian melody remains the primary focus. Gospel-driven country takes precedence on Divine Bell which is backed by an 'oom-pah' rhythm, bluegrass fiddle and harmonies which lean towards doo-wop. Clocking in at 5:51 it is the album's most expansive track. City Of Refuge closes with the traditional hymn Bright Morning Stars which has a sparse arrangement which allows the three-part vocal harmonies to shine. To imply that this album is perfect would be inaccurate, but the more pedestrian songs such as Ballad Of Treason and Burn Thru are partly salvaged by arrangements which have an engaging subtlety when they avoid the pitfalls of sounding twee.
Where City Of Refuge succeeds is in reaching beyond the scope of her previous albums Song Of The Traveling Daughter and its marginally more daring follow-up Abigail Washburn & The Sparrow Quartet. By peppering her sound with outside influences and appearing unrestricted by folk music convention Washburn may help to endear herself to a new audience. Hopefully, she will continue to push beyond the boundaries of American folk-music tradition as her charming blend of Chinese folk and earthy Americana makes for a relaxing and refreshing listening experience. City Of Refuge is an album which manages to be raw yet transcendental and simple yet layered. Inquisitive ears should find plenty of interest here.
16 January, 2011 - 21:51 — Gary McGinley