Music Reviews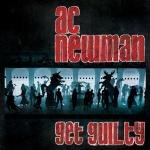 A.C. Newman Get Guilty
(Matador)
Buy it from Insound

Let's be honest: we never want our favourite bands to change. We shudder when they claim they're embracing IDM on their new record, and we shrink when they trade their guitars for synthesizers. A.C. Newman's main gig The New Pornographers are a band seemingly built to inspire adulation. It's no surprise then that their move towards soft-rock on their last album Challengers was met with groans from critics and fans alike: they were getting older, they were becoming squares, they had no punch anymore. I don't buy into that. Although it failed to match the pure rush of The Laws Have Changed and Sing Me Spanish Techno, it has more emotional gravity than their three previous records combined.
Newman's new solo record Get Guilty continues his movement away from frenetic power pop towards something more subdued. This quieter edge would seem to suit the typically smaller-scale nature of solo work more than his stint with The New Pornographers. Get Guilty doesn't quite fulfil that promise. It's not a bad record by any standard -- Newman is a remarkably consistent artist, and this record doesn't break his streak. But at this point, we expect more than consistency.
The record's main flaw is its pacing. The reason Challengers worked was its variety. Although its songs were generally low-key, the presence of several distinct songwriters created enough variety to keep the album from becoming monotonous. The Slow Wonder, Newman's first solo record, balanced slow songs with rockers effectively. Take nearly any individual song out of Get Guilty, and it's likely to be excellent. The Heartbreak Rides is one of the best songs Newman's ever written, and the rest of the album is filled with excellent tracks. But when you pile 12 mid-tempo, similar-sounding songs in a row, it's difficult to make it through 42 minutes.
Newman's songwriting style has always been dominated by a disregard for traditional pop song conventions. He always retains the ability to throw a listener off guard. Recently, it's become the norm among pop songwriters to back up terrible verses with huge choruses. Newman's choruses are usually either more subdued or not present. He prefers a slow build, and it's on the tracks that master this that Get Guilty is most successful. Songs like The Heartbreak Rides and The Changeling(Get Guilty) master this dynamic, and provide welcome changes in tempo. Similarly, the rockers fare well as well. Closer All of My Days and All My Days Off is particularly strong.
But the album's slow feel ends up obscuring these highlights. Get Guilty is best enjoyed in chunks, as nearly all the tracks are great pop songs. But a full listen through can be an ordeal. Newman is clearly making changes to his style, and as much as listeners revere his previous work, he likely still has his best work ahead of him. He just needs to balance his next record more efficiently.
2 February, 2009 - 03:45 — Alex Dorf