Music Reviews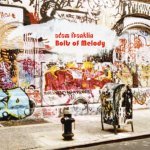 Adam Franklin Bolts of Melody
(Hi-Speed Soul)
Buy it from Insound

Fans of shoegaze, rock, and all points in-between, mark June 26 in your diary and rejoice! The songwriting force behind one of the most underrated bands of the nineties - that's Swervedriver, and yes you should run along and buy up their entire catalogue straight away - has shelved his ambient pop project Toshack Highway and returned to the guitar driven sound of his heyday to deliver what is arguably his strongest offering of the decade.
It's truly thrilling to hear Franklin amped up again and belting out urgent guitar anthems like opener Seize the Day and Shining Somewhere. The vocals certainly sound more weathered, and the effects rack has most likely been trimmed down a little from his Swervedriver days, but these two immediate standouts are unmistakably the sound of man enjoying his music.
But Bolts of Melody is not all about high tempo guitars and big choruses and there are hidden gems to be found alongside the more obvious treats.
There's druggy psychedelia (the Barrett tribute Syd's Eyes - "a mosaic tapestry on which we'll feast"), simpler folk numbers such as the delicately beautiful Birdsong (Moonshiner Version) and the Elliott Smith-esque Song of Solomon, and even shimmering sixties-tinged pop as Franklin revisits and quite dramatically transforms Birdsong. There's even a cracking instrumental track in the multilayered Theme from LSD.
After opening with a bang, Bolts of Melody grinds slowly to a halt with the trippy yet endearing finale Ramonesland, which curiously features the album's most bizarre lyric: "she plays the Red House Painters and it sounds fucking depressing". Read into that what you will, but I'll stick my neck out here and note that Franklin has never sounded more like Mark Kozelek than he does here.
To describe Bolts of Melody as a return to form would be unfair - there wasn't anything particularly wrong with Franklin's Toshack Highway work - but it is an exciting and ultimately convincing return to more familiar territory and, to be brutally honest, I don't think I've enjoyed an Adam Franklin release as much since Swervedriver's Ejector Seat Reservation, which was originally released in 1995. If you ever cared about Adam Franklin or Swervedriver you really need to check this out. And if you didn't? Refer to the first paragraph...
5 June, 2007 - 20:59 — David Coleman