Music Reviews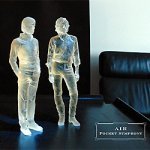 Air Pocket Symphony
(Virgin)
Buy it from Insound

The dictionary I keep on my desk (Collins) gives "symphony" as "an extended large-scale composition, usually with several movements." It also gives "pocket", when used a modifier as, "small". The oxymoron - a composition that is at once extended, large, and small, is one sure to tickle the deadpan wit of Monsieurs Dunckel and Godin, the French duo best known as Air.
But beyond clever paradoxes, what is meant, or signalled by titling an album thus? "Symphony" suggests grandeur, ambition, and serious thought going into a composition; at the same time, as underlined by the miniature Air figures that adorned the elegant as ever sleeve art, this is a little night music.
Using the word symphony in a title has other curious implications: the early twentieth century composers, such as Ravel, Debussy, or Satie who one might see as the most obvious precursors to a more classical direction for this French pair, were not greatly renowned as composers of symphonic pieces (La Mer, of course, noted); indeed the symphonic tradition tends to run more through the German and Italian canon. Thus more recent presences are hinted at: Philip Glass or Arvo Pärt, for example. The moniker is also, of course, a clear nod to the experimental piano works of Frederic Rzewski, who composed his own Pocket Symphony.
Beyond the classical designs, there is another presence on the album, to whit, Japanese music. Godin learnt the koto and the shamisen, two traditional Japanese stringed instruments, in the year before the recording of the album, and so alongside the Moogs, Korgs, and a new-found taste for laptops and plug-ins, courtesy of the Pompidou Centre's IRCAM, directed by the composer Pierre Boulez, we hear delicately hand-plucked strings on a number of tracks.
Yet Air have not abandoned pop completely. The hooks and lines of Moon Safari appear on opener Space Maker; Left Bank is a fine mid-tempo number. We also have lyrical and vocal contributions from Neil Hannon and Jarvis Cocker, the latter sounded frightening on One Hell of a Party and Somewhere between Waking and Sleeping. Production duties are performed admirably by Nigel Godrich, helping Dunckel and Godin to maintain a sparse, crystalline yet utterly human palette.
So do Air solve the paradoxes of this album? A comparison is worth making, to one of their other projects, one near dismissed on these same pages by this same reviewer, namely Charlotte Gainsbourg's 5.55. If the latter album seemed shallow, inconsequential, and somewhat vain, Air have kept their vitality on this work. Not as poppy as either Moon Safari or Talkie Walkie, not as out there as 10,000khz Legend, Pocket Symphony instead boasts songs that deserve more attention than previous numbers without performing the prog histrionics often found on their more experimental works.
An anecdote, to conclude: to test the recuperative qualities of this album, I listened to it while buying paint at my local DIY store, before carry three litres of white emulsion two miles back across Finsbury Park. Despite the high winds and the discomfort in my arms, the journey was a thorough pleasure. Air continue to make the world ever so slightly better.
1 April, 2007 - 15:11 — Ben Bollig