Music Reviews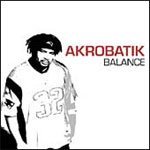 Akrobatik Balance
(Coup d'Etat Entertainment)
Buy it from Insound

Boston hip hop has long been on the rap radar, dating back to Pioneer-era vets such as Ed O.G and Beantown native Guru of Gangstarr, but it is the indie, DIY lyricists who are making big noise over the past few years, garnering respect for the plethora of talented MCs hailing from the New England area. Mr. Lif has been the toast of the town for the past three summers, and rightfully so; his politically conscious rhymes recall the days of Chuck D and the Intelligent Hoodlum, to current counterparts Talib Kweli, Common and Black Thought of The Roots.
And now it's time for Akrobatik to shine, and his full length debut Balance (hitting shelves May 20th) is sure to be the talk of the town this summer, the ideal follow-up to his 2000 debut The EP, which included the feisty Internet MC's, a hot single that went on to sell over 12,000 units, no thanks to commercial radio of course. Highly revered wordsmiths Afu-Ra, Lif and Esoteric also appeared on The EP.
With Balance, Ak's flow and rhyme scheme is even more energetic and thought provoking, but it's not all politics, gloom and street despair. Akrobatik has been blessed with some of the best producers in the biz, including a duet with DITC legend Diamond on Feedback where Ak drops one of many memorable, braggadocio metaphors, "Any emcee who tries to beat me/Is getting thrown against the wall like Jason Priestly." He also teams up with longtime collaborator Mr. Lif on Wreck Dem (with a sinister ol-skool Gangstarr sample in the hook). Further production features help from Da Beatminerz and Fakts One. And what's even more innovative in the current crappy rap game is the fact that Ak knows he's too good to pass off the mic to half-ass hangers-on. Akrobatik controls the steel throughout, and although the whole 'balance' concept sometimes wears thin, it is a complete listen and, no doubt setting the tone for what appears to be a fruitful career for yet another Boston bomb dropper.
Be sure to pick up Balance in stores on May 20th, or pre-order at www.undergroundhiphop.com. Also be on the lookout for the highly anticipated collaborative The Perceptionists, featuring Ak, Lif and Fakts One, set to drop this Fall.
2 May, 2003 - 23:00 — Chris Conti