Music Reviews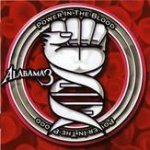 Alabama 3 Power In The Blood
(One Little Indian)

Welcome to the strange world of Alabama 3 - an uneasy, genre-busting place where electronic rhythms reside happily alongside a distinct country influence and royalties from The Sopranos pay the bills.
Power In The Blood, the London band's third full-length, marks a definite return to form after 2000's disappointing La Peste. Shrouded in darkness and cynicism, yet just as stylish as we've come to expect, this collection is an intriguing mix of just about every musical style under the sun.
The gospel-tinged Reachin' is reminiscent of Screamadelica-era Primal Scream; Woody Guthrie is pure country; the version of Bruce Springsteen's Badlands is unashamedly lo-fi. And there's more - trippy instrumentals, insanely catchy singalong choruses, and unusual bleeping sounds all make welcome appearances, and best of all, nothing seems contrived.
But Alabama 3 aren't just about battling against musical convention. In Woody Guthrie alone, they pour scorn upon the BNP presence in Oldham, the continuing imprisonment of Satpal Ram, and the exploitation of third-world workers by the multinationals. These are all valid causes, but set against a bleak canvas of deliciously warped acid-country, their resonance is surely increased.
Yes, it has it's flaws (weak tracks include The Moon Has Lost The Sun and the uneventful The Devil Went Down To Ibiza) but at the very least Power In The Blood is a compelling record. Fans of more "traditional" music may struggle to keep up with Alabama 3 as they veer from gospel to alt-rock, from country to electronica, but if you're interested in some political-charged and overwhelmingly original music, then I suggest you give it a try. What have you got to lose?
6 October, 2002 - 23:00 — David Coleman