Music Reviews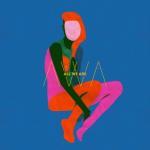 All We Are All We Are
(Double Six Records)
Buy it from Insound

There is a point in every recording process where ideas become songs. Where random chord progressions or vocals melodies stack on top of one another to create something more than the individual parts, like building a house. Continuing with this metaphor, the self-titled debut album by All We Are has decent materials, but the band members aren't the best builders.
Everything starts off well-enough for the Liverpool-based trio. After an ear-perking intro of sharp keyboards,
All We Are
moves into
Ebb/Flow
, a song that does exactly what its title suggests. Sounding like a lost New Order track, the bass locked into a vibrating groove, the song uses
Guro
Gikling's
intentionally low-key vocals to build into a chorus that glides as smoothly as wet ice on wet ice.
I Wear You
sounds like a modern-day Bee Gees song, with some funky guitars and a fantastic duet between
Gikling
and guitarist Luis Santos. The guitar solo is a welcome addition too, favoring a lower pitch than the rest of the song.
Keep Me Alive
follows up by trading out psychedelic dance for a
late-90s
rock vibe, with a relatively clean guitar strums mixed towards the surface.
Gikling
uses this track as a rare opportunity to cut loose, belting out huge notes that she should tackle more often.
Unfortunately, the band can't keep up this level of songwriting for the rest of the album. Instead, there are just bright moments in an overall dull
soundscape
.
Stone
starts with groovy guitar plucks but meanders from there, with a well of percussion from Richard
O'Flynn
giving it an occasional jolt.
Feel Safe
has a Scissor
Sisters-esque
breakdown but nothing else attention-grabbing.
Something About You
creates a horror movie intro, with a slowly approaching industrial beat, but it fades less than a minute into the song. Sadly, the rest of the album is lacking in even these highlights, sounding bland and lifeless.
All We Are has potential, but it's squandered on their debut in an attempt to make a
spacey
, moody soundtrack. It's far too subtle and low-key though, equally feeling like too much and not enough are going on. At this point, it's not an album you'll lose yourself in, but one that will lose your attention.
7 March, 2015 - 23:08 — Joe Marvilli