Music Reviews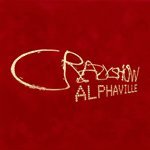 Alphaville Crazyshow
(BMG)

After a brief breakdown in communications between the ed and me, the first play of this album made me think that I was being either sacked or punished in some way. Alphaville - cross Duran Duran with Kraftwerk how they both are now, and you get a rough idea how they look - are big in Germany. Now run by founder member Marion Gold, Rainer Boss, co-composer since the early 1990s, and Martin Lister, Alphaville emerged from the seven-headed Nelson collective in the early 1980s. They have been at the forefront of German electro-pop for fifteen years now, scoring film soundtracks, writing rock operas and pioneering visuals and videos with their often changing cast. Musically they follow the rich northern European tradition that has brought us Freiheit, Berlin, Roxette, and yes, a-ha. Their current offering, the box set Crazyshow, a velvet and gold 4CD box set, offers numbers 9-12 of the ambitious Dreamscapes project, a collection of earlier work, new material, and covers of artists such as Roxy Music and George Harrison.
All of which is a preamble as I circumlocute the duty of saying that unless you are fan of Alphaville's singular work, or are deeply interested in 'German electro-pop' that sounds exactly as you imagine it would, this album is possible the most painful listening experience you will have this year, yes, even including the work of Wayne 'No relation to Stevie' Wonder. There is no doubt that the horribly self-indulgent medium of the four CD box-set is perfect for Gold and co.'s art, but it is a truly shocking art.
Musically, this is an album that has stalled somewhere in the darkest years of the eighties. What is remarkable is the sheer anachronism of their sound on both the new and old material, showcasing a band whose aesthetic has been truly trapped in amber. State of Dreams has lyrics that a cleaned-up Ozzy Osbourne would disavow, vocals somewhere between Paul Young and Ultravox, and even a false heartbeat (cf. Dudu, dudu du du... oh Vienna! Dudu du du, etc.). The ultra-faux operatic swoops occasionally suggest a piss-take, but no, this is as sincere as possible, as evidenced by the horrible rhyming couplets on Ways, a track that gives a new depth of shallowness to the term 'twee'. Everything has a big finish that is signalled on the horizon like a dynamite laden train, exemplified by Still Falls the Rain, a rock-opera worthy of Andrew Lloyd Webber's erstwhile crony Ben Elton. By Zoo, the progressive horror had led me to an insight on life in the hands of US forces, and I felt close to breaking and revealing that yes, I am Saddam Hussein.
Hurricane shows them running the 80s gamut even further, taking off mistaken mid-career Bowie, before Shadows She Said should soon be heard as the backing music for Casualty (low budget over melodramatic equivalent of ER - US translation ed.) and Miracle healing reveals the chimera-like shame of the love child conceived Damian-style by Moby and the Scorpions. Universally, the vocals are Freddy Mercury gone-wrong.
What is remarkable is that there are three more CDs of this, so I am informed; mercifully, someone's press budget does not stretch that far, otherwise No Ripcord would be employing the services of a medium to receive this review. What is for sure, amid the dread of this long-player, is that it is a perfect example of Alphaville's work, a kitsch, time-stranded masterpiece of tack. For the t-shirt wearing, lighter-wielding fan, this is doubtless heaven, particularly as it comes, I repeat, in a gold and velvet box. Otherwise, avoid at all costs. This hurts me more that it hurts you.
7 July, 2003 - 23:00 — Ben Bollig