Music Reviews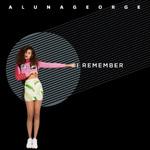 AlunaGeorge I Remember
(Island)
Buy it from Insound

AlunaGeorge have been getting by with a little help from their friends. Not that they need it, of course. The English duo's debut album, Body Music, was released to some serious critical praise: a slick, self-assured demonstration of Aluna Francis' unique vocals and George Reid's intuitive synth-R&B production. Yet their second effort, I Remember, is laden with collaborations and this is entirely by design. "Let's open [AlunaGeorge] up a bit more," comments Francis on utilising 'friends in music.'
The duo understand the power of musical minds coming together, first realised with each other in 2009, and now in inviting some chums for their sophomore album. Tracks like lead singles Mean What I Mean and I'm in Control are unadulterated, sun-kissed summer pop. The former strides confidently through a rush of bold lyrics, tropical house beats and a welcome dose of retro girl power. Female rappers, the enigmatic Leikeli47 and the upcoming Dreezy give the track a playful kick. I'm in Control is a freewheeling dance tune with big synth horns and drum machines, complemented by Jamaican dancehall aficionado, Popcaan. Building to a dreamlike refrain, Francis' delicate vocal is still disarming, but she sounds more self-assured than ever. She's in control.
The collaborations with Zhu and Flume, My Blood and I Remember respectively, are darker and more retrospective than anything AlunaGeorge have released before. My Blood is undulating and almost sinister, with an eerie mood. Flume's own brand of wonky electronia shines through on I Remember, as Aluna opens up: "I remember, I remember goodbye/And the salted rain running from your eyes."
Yet, AlunaGeorge's evolution as artists is most evident on the songs without their peers. The choppy, UK-garage influence has almost disappeared completely in favour of heavy bass and melodically sparse ambience. Wanderlust and Jealous feature pitched down vocals, with the latter making the most of layered synth textures for an atmospheric dance-track. Glimmering dance number In My Head reaches a satisfying synth-string ending and pushes all the right buttons. As a producer, Reid has evolved wonderfully.
Mediator, the album's biggest surprise and strongest track, is a lush fusion of Sade and Aaliyah, whose influences have always been present but are truly brought to the fore here. Swaying along to a soulful bass and wah-wah effects, Mediator swells to a hypnotic ending. This composure and moment of musical clarity is punctured with Heartbreak Horizon. It's a slightly misguided song that doesn't quite know what it wants to be: starting with smooth dance beats, loud horns and clap effects and even early-2000s acoustic pop guitar. Unfortunately, it all sounds a bit messy.
It's a solid album, but with the exception of Mediator, the two lead singles stick out like a sore thumb. It's difficult then to gauge where the strengths lie: is it the two big summer numbers, or what's moulded around them? Sonically, they don't quite fit in with the rest of the album. This isn't a bad thing of course, but AlunaGeorge would do well to ensure this aural gulf doesn't grow too wide. It's always nice to see artists explore the musical process and become more comfortable in their own crafted sound. I'm in Control and Mean What I Mean, while fantastic songs, show that the duo still have a little way to go in truly consolidating that process. It's all a learning curve, which is never a bad thing for a sophomore album. Thankfully, AlunaGeorge have offered us plenty of examples of what they do best in I Remember and, perhaps most importantly, left us wanting even more.
16 September, 2016 - 19:19 — Ellis Victoria