Music Reviews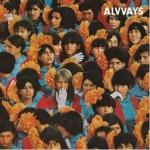 Alvvays Alvvays
(Polyvinyl)

Never mind their linguistically questionable band name, a play on consonants that should help ameliorate their SEO reach, Alvvays is but a presentational quirk that's as ambivalent as the music they're inspired to play. The fey nonchalance found in the Toronto quartet's debut effort taps into a vast compendium of reverb-soaked indie pop, one that covers a good portion of twee's thirty years without overly reading into every single detail. Such is the approach of early twenty-somethings soaking up the digital annals of You Tube with a voracious sense of discovery, learning by capriciously adopting past sounds without concerning themselves with the reputation their influences have acquired throughout the years.
This mostly works to the benefit of Alvvays, who manage to stand above many of their pastel-hearted contemporaries by visualizing a day in the life of a young adult going through the pains of singleness and wrestling with messy decisions attributed to young love. The brisk thirty minutes of Alvvays almost go off without a hitch, avoiding the oft-repeated practice of emphasizing simple harmonies and instead inserting thoughtful, well-read verses that are as affectionate as they are, well, a little bit derpy. Their easily-digestible sonic candy sounds pleasant to the ears, and the light use of distortion seldom cloaks the honeyed vocals of Molly Rankin, whose journey-entry approach is less self-deprecating and more so self-forgiving and empowered.
A simple, mellifluous chord structure is rooted with a firm groove in Archie, Marry Me, in which Rankin fantasizes the idea of an impetuous wedding with the same gently charm of Bethany Consentino: "So honey take me by the hand and we can sign some papers/forget the invitations, floral arrangements and break makers". She sounds confident, but it doesn't mean that other times she's fraught with fears - the lonesome ballad One Who Loves You has her reflecting upon the nature of love with the quotable asceticism of Erich Fromm as a defense mechanism: "Love the ones who love you/Oh, leave the ones who don't." Rankin's light-hearted, somewhat lackadaisical delivery gives the impression that she's expressing whimsy as she rolls her eyes, but she wields her placid, dispirited emotions with a keenness that better suits the slower tracks.
Which means that Rankin isn't any different than your typical cooing dream girl, except that she disproves that assumption by holding the slightest trace of diffidence. The emotional grit of Party Police is even a bit too sudsy for Rankin, who pleas to her love interest for a moment of release ("we can find comfort in debauchery") whilst sporting a melodramatic bridge that comes close to an eighties power ballad. Other accounts are more overtly fictionalized, like in the jangly Next To Kin, which kicks up the tempo like a sped-up Mazzy Star number as she mourns a halted romance after an unfortunate drowning.
Despite the sun-soaked paisley vibe that it initially sets, Alvvays sidetracks itself from the "summer album" malady with a surprising amount of hefty hooks and sweet-and-sour lyrical contours. Producer/songwriter Chad VanGaalen gives the final product the same fizzy treatment of his own repertoire, coated with a pleasant noise and hiss that also brings to mind the callous pop of Deerhunter and dearly-missed Women. It's an interesting proposition for a band that strictly operates within a much-abused aesthetic, and the minor production tweaks make their shimmering melodies sound less antiseptic. Alvvays takes a decidedly more shambolic direction as it reaches its final half, which is worrisome considering its brief runtime, thereby overstaying its welcome by lacking some much needed punch. But it shouldn't in any way discourage Rankin's efforts as the band's core member, whose astute, lovesick descriptions are more than just a pleasant diversion.
23 July, 2014 - 04:53 — Juan Edgardo Rodriguez