Music Reviews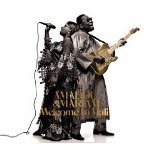 Amadou & Mariam Welcome to Mali
(Because)

To compare Amadou & Mariam to piano-soul juggernaut Stevie Wonder purely on the basis that all three artists share a common disability would be a gross oversimplification - especially since their similarities do stem far beyond their common blindness. In the same vein as that of Stevie Wonder, the music of Amadou Bagayoku and Mariam Doumbia boasts a discernibly indomitable spirit. It is both hard-grooving and, consequently, helplessly addicting, infused with an essence of optimism and pocked with exuberance. In a sense, by receiving critical acclaim in the English-speaking world for an album recorded primarily in French, Amadou & Mariam also embody the sentiments expressed by Wonder in his '76 song Sir Duke - "Music is a world within itself with a language we all understand." Beyond all of that, though, they're also all three as old as hell - well, at least by modern pop standards. However, just as Stevie did with 1995's Conversation Peace, Amadou & Mariam prove to a world filled with bubblegum tweensters that forty pluses can still bring the funk.
The influence of Fela Kuti and the Africa '70 can be seen cross-generationally through the work of Paul Simon, Brian Eno and the Talking Heads, et al. However, combining the tribal rhythms of Kuti's Afrobeat with more traditionally-western pop sensibilities has more recently become somewhat of a flavor-of-the-month trend in modern music - not that there's anything wrong with that. Luckily, Amadou & Mariam's latest offering, Welcome to Mali, is no exception. Their music may be less posh than the ivy-league pop of Vampire Weekend and less experimental than the art-rock of TV on the Radio, but it in no way lacks the immediacy that made their Afrobeat peers so utterly irresistible. While the album may not have achieved the commercial success of other, comparable acts from last year, Welcome to Mali nonetheless exudes enough energy and compelling beats to coax even Shaw Moore out of the pulpit and onto the dance floor.
On their new album, Amadou & Mariam may try to Welcome listeners to Mali, but its opening track, Sabali, actually lands them somewhere closer to mars. The track's electronic gleeks, whining synthesizer, and spacey arpeggiations defy any and all expectations I had for an album whose cover features two native Africans adorned in tribal garb. However, the duo's sonic opulence doesn't end with Sabali, as the song itself could be viewed as a paradigm for the rest of Welcome to Mali. The track's total disregard for the bare minimalism that pervades Amadou & Mariam's earlier work in favor of a sound that is stringently meticulous and rife with lush instrumentation is characteristic of the album as a whole - the album's title track, Welcome to Mali, is a bi-lingual Latin funk jam, rounded out by a vocoder solo that is pure gold. And on Djuru, one of the album's strongest cuts, Mariam's spritely voice glides atop a pastiche of guitar, synthesizer, and eastern instruments, held together by the duo's subdued rhythm section. Besides just being a novel surprise, though, Welcome to Mali is remarkably consistent throughout its entire duration - quite impressive for an album that clocks in at over an hour - and it has the potential to endure the test of time.
Welcome to Mali is likely to face one major problem upon its release in the English-speaking world - as a product of Mali, it is primarily written in French. For any would-be Amadou-and-Mariamites out there who can't stomach the idea of an album recorded in a language other than English, though, the duo throw you a bone with I Follow You. In an interview with Uncut Magazine, Amadou stated that that the duo's reason for writing a song in English, a language which they are obviously unfamiliar with, is that they "would like English-speaking people to understand [them]." Admittedly, I Follow You isn't the work of someone with a firm grasp on the English language. For everything the song may lack in proper grammar and sentence construction, however, it more than makes up for in sheer determination. While lyrics like "When you go east, baby, I follow you" and "I think of you every time, everywhere" may seem awkward or elementary on paper, the words receive a heightened sense of poignancy when they are painted across a canvas of the duo's climactic, wavelike orchestrations.
On occasion, some of the year's truly great records for one reason or another end up swept beneath the floorboards, especially when the album drops only a matter of days before the Time Square ball does. Despite receiving several glowing reviews, Welcome to Mali still wasn't a major player in many best-of 2008 lists - my own included, unfortunately. It's not particularly surprising that a French-speaking Malian duo had trouble grabbing the spotlight in the American mainstream, though, even with an album that is, to quote William Miller, incendiary. If you were one of the many who failed to check out Welcome to Mali, make haste to your local record store and grab a copy, or three. Welcome to Mali was one of 2008's hidden gems, so do yourself a favor and go check it out now.
25 January, 2009 - 15:34 — Andy Stewart