Music Reviews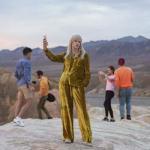 Amber Arcades European Heartbreak
(Heavenly Recordings)
Buy it from Insound

Break-ups are tough. The bitter arguments have taken their toll, and it seems like a split is what everybody wants, but as the whole messy situation unravels, there's a moment when you realize just how dependent you were on them after all. Suddenly, the relationship is beyond repair, the dirty laundry well and truly aired, and you can feel lost and fight for another chance to stay - or accept they were only holding you back, anyway.
So that brings us to the state of Europe and its slow dissolution. It's a topic that Amber Arcades (Annelotte de Graff) can't really avoid as a Dutch artist and human rights lawyer signed to a British label. Sometimes she addresses it directly, as on the wistful Goodnight Europe, where she blames her romanticism on her left ideals and her university degree, but it's more often an elephant in the room. This is not an angry record or one that is full of dread. Instead, there's a sense that de Graaf is becoming apathetic to a world that seems to keep shooting itself in the foot. If you don't feel like you have any control and the choice is either blissful zen at letting the world call the shots or continuing to shout into the void, then de Graaf opts for the former.
The album is a change in tone musically as well - it's a markedly different approach to her debut Fading Lines and even compared to last year's EP Cannonball. There's nothing as punchy as the drums of It Changes, nor is there anything as dreamy as Can't Say We Tried. Instead, de Graaf brings in horns and strings to produce a fuller, richer sound that incorporates the fuzzy vocals and dream pop of her earlier releases.
It means that she's largely moved beyond her brand of exciting, colorful and vivid indie pop, and European Heartbreak saunters along at a slightly slower pace - as if de Graaf is trying to reconsider her place in the world, sauntering around rather than wanting to dance. But this album is able to sound gorgeous and luscious in a way her other more direct material can't.
De Graaf allows some space for some of her finest lyric writing, both in terms of honesty and wit. Self-Portrait In a Car at Night is a beautiful track about feeling alone and slightly lost, while on Antoine, she asks a departing partner, "Was there something more than just a rush of blood?" There are few new indie songwriters as outright clever as de Graaf, and the wistful strings prove to be an almost perfect accompaniment.
European Heartbreak is a maturing of de Graaf as an artist; her lyricism is smarter and sharper, the instrumentation ambitious and grand. There must have been a temptation to go for bombast or hammer home any political concepts, but instead, the balance allows her earnest cause for optimism to shine through. European Heartbreak is charming, clever and quietly confident. If the world really is about to fall apart, then Amber Arcades has produced something that is more than a worthwhile distraction.
8 October, 2018 - 04:51 — Matthew Smith