Music Reviews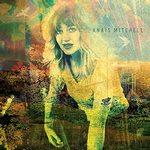 Anaïs Mitchell Anaïs Mitchell
(BMG Rights Management)

Anaïs Mitchell has spent a little over a decade getting lost in worlds rich in character and wonder–whether it's the 2012's concept album Young Man in America or 2010's Greek tragedy turned Broadway musical Hadestown. So to hear the Vermont singer-songwriter and playwright take a back-to-basics approach for her seventh studio album feels like she's reclaiming herself once again. Mitchell's self-titled comeback is honest songwriting in its purest form, on which she navigates memories and emotions with charming, understated chamber-folk.
Mitchell balances these everyday observations with finely detailed flourishes that elevate her performances. She lays her feelings bare on Brooklyn Bridge, on which she recalls the joy of sitting beside the person she loves over horns and lush piano chords. Mitchell accents a similar thread of thought on Real World but in a far more practical manner, appreciating the many mundane activities that make her feel whole alongside a bare acoustic guitar. She does not intend to make the ordinary sound extraordinary; that said, bringing along multi-instrumentalist Josh Kaufman behind the boards—both previously worked together on their indie-folk supergroup Bonny Light Horseman—is guaranteed to produce a wonderfully lavish, yet spacious production. Mitchell does nothing more than sing a loving tribute to her deceased friend Edward "Felix" McTeigue on On Your Way (Felix Song), but when paired together with a gorgeous rootsy flair, the results are touching and anthemic.
Mitchell does tend to occasionally come up with general truths that can come across as uninspired, as on the piano ballad Watershed, on which she compares being open to new changes and experiences to that of climbing mountains. But overall, these moments don't change the course of Mitchell's graceful journey. With her lowkey yet glistening collection of songs, she jumps back into the light with clearheaded confidence and a more mature outlook.
31 January, 2022 - 04:41 — Juan Edgardo Rodriguez