Music Reviews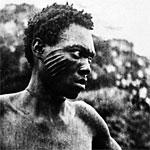 Andy Stott Passed Me By
(Modern Love)

Dubstep is mutating. It isn't dance music anymore. No more artificial fog and elaborate light shows, no more skittish 4/4 beats. Much of it released these days is submerged in the dark, below sea level – music an anglerfish would listen to. Andy Stott's Passed Me By is no exception to this change. It's deep. 100,000 feet deep.
On Passed Me By, noxious, cut-up vocals collide against fat, slow beats – beats moving at the speed of sludge. Something's dangerous and nocturnal about these collisions: they're rumbly, wobbly and irregular, like breathing when having a nightmare. Slowing his beat BPMs down is a significant change. It follows the footsteps of turntablism's vinyl-cracked treacherousness, of evil sculpted into sound. Even the man on the grainy album cover photo, with what looks like tiger claw scars on his cheek, seems menacing.
Stott's music wasn't always like this. His 2004 release, Unknown Expectations, sounds like an incoherent blotting-up of Aphex Twin's Selected Ambient Works. The tracks are largely featureless. The raver was still in Stott; the dancefloor-friendly expectations still lingered. The mid 2000's saw the release of dubstep records breaking through of that expectation – the leading example being Burial's 2007 Untrue. That's when Stott's remodeling of his work began.
Yet there's a difference between Stott and Burial. While Burial (largely mistaken as being one of dubstep's creators, which he isn't) samples love-lorn, melodic vocals from 80's and 90's R&B songs, Stott transmits a melancholic feeling by other means. His sampling of uninterpretable voices (unlike Burial's) is his most commanding technique. Most are so brief they don't last long enough to say a word, others are slowed-down so much that they're animal-like: they bark and decay in their retardation, dragged like corpses to a riverbank in the dark. He's also not afraid of the vocal-less ambience that Burial shys away from. Emotions must resemble trash on cracked sidewalks for Stott. He walks over them, or doesn't notice them at all.
By rejecting dubstep's somewhat dubious connection with R&B, Stott anticipates the fusion of dubstep with another style – drum 'n' bass. Passed Me By is somewhere between both genres. And sprinkled in is turntablism, too. There's something seductive and illuminating about Stott's new music, something that transcends the terror being emitted. Down in the deeps, a little light can shine through, too. Passed Me By is that light.
28 October, 2011 - 11:05 — Michael Iovino