Music Reviews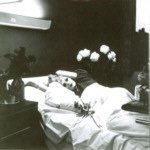 Antony and the Johnsons I Am A Bird Now
(Rough Trade)

The Peter Hujon photo 'Candy Darling on Her Deathbed' encapsulates the beginning of the end of the filthy-gorgeous decadence of New York subculture in the 1970s. The model and Studio 54 muse lies emaciated, bewigged, made-up and in the end-stage of a battle with leukaemia a few days before her death. Striving to retain some glamour right up to the end, the photograph foreshadows the drugs and AIDS crisis that tore through New York's artistic leftfield and is a fitting cover to this album by a leading light of the reborn cabaret and performance art scene of New York in the noughties.
The ten songs on Antony and The Johnsons' second album are maybe not what you'd expect. Certainly, my experience of music by performance artists is pretty much limited to Minty in the mid-nineties, which was fun, but ultimately the act were more about defaecating on stage than the music. This collection of lounge-tinged blues and spectral soul hymnals is a world away. Of course, Antony's longstanding collaboration with Lou Reed, who appears murmuring a prologue to Fistful of Love, hints that concerns about performance frippery might be unfounded. Reed is just one of several celebrity cameos. Rufus Wainwright's charismatic lead vocal on What Can I Do and Devendra Banhart's primeval wailing on the intro to Spiralling reflect the quality of Antony's friends. Notably neither Reed, Wainwright, nor Banhart, at least two of whom are frequently noted for their vocal prowess, go up against the main man in a duet, adorning or interpreting his songs and not attempting to compete with his graceful, expressive, powerful voice.
Antony's vocals are rare stuff-at times a cool balladeering Peggy Lee, at others switching to an emotive, expressive Nina Simone vibrato. The only full-on duet, You Are My Sister, features the most unlikely guest, Boy George. Whether this is an anthem for transvestite solidarity or a paean to friendship I am not sure. But Boy George acquits himself surprisingly well in the face of Antony's daunting talent. You know when, for some strange reason, you think Will Young has a good voice? This is what-because deep down you're a generous person-you are actually wanting to hear.
Antony himself plays piano and organ on most tracks; the Johnsons, seemingly an amorphous group of fellow artistes from the New York scene, contribute variously further keys, cello, violin, drums, and bass. This makes for a rag-tag orchestra, plying an accomplished trade in soul and blues musicianship. The songs themselves deal predominantly with the themes of gender confusion and transformation. My Lady Story and For Today I Am a Boy tell of the changing roles that Antony fulfils in his life as sometimes androgyne, sometimes transvestite, sometimes humdrum man. He never seems to define himself as homosexual, male, female, or anything other than Antony. A refreshing and important message in these days when people still have problems seeing beyond someone's gender or dress, when many other acts are donning a faux military uniform and shouting of garage guitars in trendy New York bars, this chameleon yet individual quality could be a lesson to many.
Much of the album is tinged with a sense of sadness, about not being accepted, about societal impositions, or about just being sad. However, the album is one of those rare things, a fully conceived and perfectly realized artwork. From the wide eyed insecurity of the opening track Hope There's Someone, through the transition tracks as Antony trials and comes to terms with who he is, to the elation and release of Free at Last and the beauteous closer Bird Guhrl, I Am A Bird Now has a strong narrative, the likes of which I haven't heard since Lisa Germano's 1994 masterpiece Geek the Girl.
When stocks are taken, and the dust settled on 2005, this will surely be counted as one of the most remarkable, individual, and adorable albums of the year.
16 April, 2005 - 23:00 — Peter Hayward