Music Reviews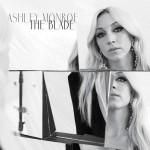 Ashley Monroe The Blade
(Warner Bros. Nashville)

Ashley Monroe's latest release, The Blade, bests her previous effort Like A Rose by a long shot. Coming from someone who fell in love with Like A Rose's tales of sweet rebellion and vulnerability, that's a big deal. But now Monroe's melodies are thicker, her lyrics more pointed, and her presence more palpable. Surrounded by mirrors, she surveys us from the cover of The Blade, eyeliner layered on black, a sweep of edginess noticeably absent from both the sound and artwork of her preceding albums. It's a subtle detail, and unlike the abrupt image overhauls that so many artists rely on with every new release, Monroe pairs it with the familiar and lived-in femininity she exudes: a doleful blue-eyed gaze, southern blonde tresses, and that wearied, mellowed voice.
Abetted by Vince Gill and a team of masterful songwriters, Monroe takes done-to-death themes and makes them smart again. Every song on The Blade is fraught with Monroe's awareness not only of the heartbreak inflicted upon her, but of the heartbreak she causes in others. The ostensibly ''happy'' songs are shot through with bitterness even when pianos chink and the self-deprecating humor flies, while the grieving ones are drenched with resignation.
Album opener On To Something Good is misleading in its optimism, because by the time the record is over Monroe has already had enough of her Southern homeland (Dixie—quite a gem) and has been rejected by the very devil himself (If The Devil Don't Want Me—another standout track). But, no matter. What lies ahead is much more interesting than this endearing yet rather trite feel-good anthem. The full weight of the album hits around the middle, starting with Bombshell. ''I can't love you anymore'', she sings as the tension in the bridge builds and the guitars smash down plaintively, a perfect example of the cruel sincerity required to say things that must be said yet can't be justified.
Winning Streak brings some much needed levity halfway through the record, with its fast-paced celebration of bad luck. The mournfulness swiftly resumes, however. Bad habits and bad luck aren't always shrugged off that easily, and we can hear her resentment on If Love Was Kind, when she deftly spits out the song's opening verse: ''I wouldn't be half lit drunk/ Digging 'round the danger/ Wrapping my number on a coaster/ Sliding it to a stranger''. She never sounds self-pitying or self-indulgent, only self-aware. And she knows the suffering isn't enough to keep her from risking a relationship. Has Anybody Ever Told You is a love song of the best kind. Poetic and unassuming, she describes the object of her affections: ''And when you walk into a dark room/ the light of a thousand moons surrounds you''. The simplicity of the song drives the point home, and we are left to imagine the depths of Monroe's longing and loneliness.
Ashley Monroe is no beginner to singing about the complexities of womanhood, especially in a genre that has a tendency to cave in upon its female artists. Anyone familiar with the Pistol Annies will recognize much of what Monroe writes about in her own albums. She knows what it is to crave whiskey, to lust after men, to flout the petty hypocrisy of small-town country life and then cry and ask Jesus for forgiveness. This time she wove this narrative of Southern womanhood into The Blade and, by forgoing judgment and flaunting all its incoherent complexities, made it universal.
5 August, 2015 - 05:09 — Luiza Lodder