Music Reviews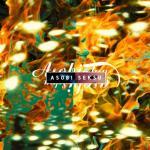 Asobi Seksu Fluorescence
(Polyvinyl)
Buy it from Insound

Asobi Seksu are back at the dream-pop races, but this time they've brought something a bit less contemplative. Fluorescence, the fourth full LP from the group is upbeat, energetic, fast-paced — and catchy beyond repair.
Asobi Seksu clearly picked up on ripples in the indie world's tide, moving not in resistance but in conjunction with some dominant musical shifts. They're certainly not just floating along with lazy late-comers, though. This is bold, courageous stuff for the group. They've opted to remove a bit of the fuzziness and bring in a sense of clarity, and it resonates well.
This is catchy, too: Fluorescence makes its trade in earworms. The album's most exacting writing draws out the best in the band with Perfectly Crystal, and everything comes together. Before the song, the album feels a bit unsure; after, it feels not just complete but forward-thinking. This is the typically shoegaze group pushing the pop of dream pop and downplaying the gazing — they're really pushing on here.
Asobi Seksu never really struggled to find their footing, but Fluorescence sees the band even more firmly planted than in their past efforts. The band's not much seen with theirs heads in the clouds here. That haze has been cleared away, and any accompanying malaise has been shoved out along with it.
Leading the line for the more sugary album are the fast-paced My Baby, the hook-laden Perfectly Crystal, the inimitable vocals on Sighs — but there's some wonderful counterbalance, with Ocean and Counterglow providing more traditional dream pop and shoegaze moments.
It's a nicely balanced record: It's not as if the 'old' Asobi Seksu has disappeared and been replaced with a slightly more cheerful android version of the band — but there's a definite shift here.
13 February, 2011 - 14:16 — Matt Montgomery