Music Reviews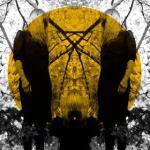 Austra Feel It Break
(Domino)

Katie Stelmanis, the muscle behind Austra, appears to be one of those people that you were probably jealous of in elementary school. Ushering in her primitive musical talents by the age of 10, she joined the Canadian Children's Opera Choir, moved onto mastering the piano and viola, started working MIDI by 18, and basically perfected the debut album, Feel It Break, before Domino even picked Austra up. Okay, we get it. You're good at this. Some argue that Stelmanis suffers from some identity crisis considering the peripatetic nature of her musical background. On the contrary, the resulting grand fusion of classical, dance, and electronic-goth on this album leads me to believe that she knows exactly what she's doing.
Maya Postepski (drums/producer) and Dorian Wolf (bassist) complete the Toronto based trio that's been making it through the indie-scene grapevine ever since their splash at SXSW this year. If you were one of those people observing the massive festival from a laptop far, far away, you know that The Beat And The Pulse was spread around faster than you can say "Canada-eh". The surging beats and washed reverb hug the harmonies so you're mainly paying attention to the tempo on this track, but you can tell this structure isn't meant to camouflage her voice. She wails without making it too obvious. There are plenty of other opportunities on Feel It Break to hear the operatic flights that Stelmanis was suspected to enhance further on the beaten, traditional path to the university before she escaped to make her own music. Clearly a smart choice.
You have to admit, for ominous titles like The Choke, The Villain, and Hate Crime, leading to an overall thesis of Feel It Break, it's still filled with a lot of late-70s glamour pop that make this a surprising Friday night favorite. Darken Her Horse serves as a nice introduction to the synth-pop soaked in dissonance that's sprinkled over the entire album. The soaring chorus interrupts the doleful tones making it very emotional and cinematic, but their ability to produce fist-pumping dance numbers, like Lose It and The Future, will probably drown this gem on the popularity poll. Tracks like Spellwork and Shoot The Water prove that grim melodies in minor keys can be fun if the beat is right. The Beast is the one anachronistic track that you have to appreciate because it showcases Stelmanis's years of opera and classical piano training. After listening to an entire album of strident vocals and classical-goth undertones that only compliment the synth-heavy electronic pop, it would be a shame not to completely dedicate at least one song to her exquisite piano and opera training. It's like buying a Ferrari and just keeping it below 60 mph.
There's an amazing balance on Feel It Break. You should have everything you need, if your needs are met by a beautiful blend of virulent lyrics, pumping beats, with addictive dark melodies. Get out your black clothes and a disco ball and go nuts.

30 May, 2011 - 14:17 — Randi Dietiker