Music Reviews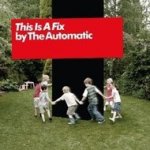 The Automatic This Is A Fix
(B-Unique)
Buy it from Insound

The Automatic are an interesting case. Not musically, of course – the music on this album, for the most part, is about as interesting as a flapjack in a bin – but in terms of where they are as a band right now. The famous "sophomore slump" is now so ingrained in music culture that there is, weirdly, very little pressure on these Welsh chaps to produce anything sensational. Thanks to a sensationalist British media press, bands "burst" onto the "scene" and can't ever keep up the momentum. Think of recent rock acts like this; We Are Scientists, Franz Ferdinand, The Horrors, The Futureheads, The Long Blondes, etc etc. Nobody cares about these acts' second albums. Their initial burst of interest is simply enough to keep them going through the doldrums of increasingly mediocre releases. As consumers, we are now so fickle, our music so disposable and our expectations so low, that albums like This Is A Fix are like motorway signs – they just remind you that the road is going somewhere. The real purpose of this album is to keep The Automatic's career ticking over for the next eighteen months or so. And it will probably succeed. Those interviews with Lauren Laverne and Steve Jones are still in the bag.
The album aims for Grohl-esque rock anthems, but falls short mostly due to a lack of melodic gifts; given that, it needs many more musical ideas than it has to keep anybody interested. The songs chug along pleasantly, but there's no urgency, no spirit to most of the music here, and ultimately, the songs are forgettable – an apt situation given The Automatic's position as the band with that one song. The album opens with its strongest cut, Responsible Citizen, which cons the listener into thinking the album might actually have some cojones after all. However, we quickly settle into comfy, unassuming rock territory and never really leave until, 45 minutes later, you're left wondering what songs like Bad Guy and Sleepwalking even sounded like. There are nods here and there to Interpol-lite reverb on songs like This Ship, the album's other highlight, but The Automatic live up to their name and operate for the most part on auto-pilot. It's not that the music here is particularly woefully bad, or that it is even particularly uninspired; the problem is that it's all so ordinary. It does precisely what you would expect, offers no surprises or interesting turns, and plods along entirely predictably. The departure of keyboardist/screamer Alex Pennie may have made the band sound more professional, but it may also have stripped them of some of their individuality and somewhat quirky charm. Even the album's title is soporific, communicating nothing much at all. The real issue, though, is this – was anybody really ever expecting anything more? And will anybody care?
The Automatic – they exist.
2 October, 2008 - 10:24 — Alan Garner