Music Reviews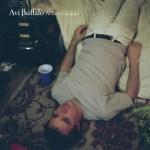 Avi Buffalo At Best Cuckold
(Sub Pop)

As far as album titles go, At Best Cuckold couldn't be a more appropriate way for Avi Buffalo frontman Avi Zahner-Isenberg to mortify himself and think that he ought to renounce his happiness. His self-defeatist attitude stems from a place of fear and unworthiness, a slightly disturbed songwriter who does not suppress any inner "too-much-information" turmoil that causes him to revisit his past hurts. These unfiltered thoughts were flowing in and out of his consciousness on his self-titled LP, who was then a nineteen year old writing sunburnt folk songs that showed a wisdom far beyond his years. His was an awkward naiveté that blossoms with decisive confidence, jotting down new experiences as they happened, and with vivid detail, without a single shred of shame or discomfort.
Zahner-Isenberg's lyrical qualms, compounded with his young age, brought a unique and oftentimes comical sensibility to his skillful melodies. At Best Cuckold comes a full four years after their debut, which in this age of immediacy and voracious consumption translates to almost a lifetime, dangerously close to becoming forgotten considering the regular cycle attributed to most bands in major indie labels. Whereas the open-eyed, unsentimental clarity of their debut was perhaps its strongest asset, Zahner-Isenberg now approaches a vaguely interpretative and sometimes even diabolical slant, purposely tying in loose observations that sometimes may even contradict the generalized optimism of the songs themselves.
When Zahner-Isenberg revealed all the details about At Best Cuckold, he expressed a desire to write ballads delivered with a classic sensibility. In that long gestation, he gave himself the chance to explore and really refine his instrumental output. In Avi Buffalo centerpiece Remember Last Time, Zahner-Isenberg sounded fully convinced when he wistfully coos, "I've never written a love song, but I will for you", and the direction he now takes serves as an unequivocal response to that statement. He dutifully searches for love, albeit probably in the meandering fancy of his own daydreams, in the stark, mid-tempo So What: "I'm only waiting for the star collector/To come and sweep me right up off my feet". The sentiment is a cry away from the explicit hornyness of Summer Cum, which detailed a young man's personal conquest to give his lover the release she yearns for as he confuses intimacy with sexual gratification.
Zahner-Isenberg's bracing lack of innuendo may have been a testament to his youthful vibrancy, but his idiosyncratic magnetism has't dulled one bit as he leads into his mid-twenties. He basks in the glory of Magical Mystery Tour-era Beatles in Memories of You, a sprightly piano-led tune marked with regal horns in which he sweetly embraces whimsical vocal mannerisms. It's exceptionally chirpy in execution, so much so that it's easy to miss the not-so implicit phallic connotation: "Hello sweet pea!/my bones are pressed/up to your chest". That line is worthy of an head shake - insert infantile chuckle - though the marginally neurotic rambling that follows changes the song's temperament immediately like listening to an unhinged mental patient. That's just the way Zahner-Isenberg projects himself, and in Think It's Gonna Happen Again, his chariness leads to self-distrust ("Couple days ago, I met up with my hassle/It really happened and I liked it"), over a cheery chorus of "ah-oohs" that underline a tormented irony.
Zahner-Isenberg has a deceptively jovial calm that offsets his downbeat compassion, and the album's ripe arrangements are a much better fit than the one-the-nose, pastoral harmonizing of their debut. There's the economical songwriting of Overwhelmed With Pride, which saunters with a serene acoustic melody worthy of Jackson Browne's debut (it's interesting to note that Browne himself was also 23 at the time) within an ascetic state of being. And then there's the delightfully meek She Is Seventeen - the percolating piano lead gives it a sense of weariness and exhaustion, like taking a weekend drive on a hot summer day for the mere pleasure of disconnecting your own thoughts; it's also the most adult contemporary of the bunch, arching over John Lennon balladry with a seventies AM pop flair akin to (gasp!) The New Radicals.
At Best Cuckold is a stately effort that intends to rekindle the lost concept of an old-fashioned country-folk love song, ten times over, yet its candid and non-restrictive lyrics exclusively provide an odd glimpse into Zahner-Isenberg's spent, yet busy imagination. Avi Buffalo dismiss the fully-formed, if somewhat precious, sound of their debut, which could be looked upon as a step back for those who enjoyed that album's fluttery guitar work. What it loses in irreverence it gains in solemnity and seriousness, but this is still the Zahner-Isenberg of before, ruminating on his past with a conflicted conscience that threatens his every thought. He strangely evokes the right amount of pathos, and though he seems just as addled, the assurance of craft he displays after a four year absence is notable. Settling into rock maturity with troubling defeat rarely sounds this satisfying.
15 September, 2014 - 07:26 — Juan Edgardo Rodriguez