Music Reviews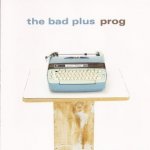 The Bad Plus Prog
(Do the Math/Heads Up/Emarcy)
Buy it from Insound

The newest album Prog from The Bad Plus has been a refreshing week of gleeful auscultation. Reid Anderson, Ethan Iverson and David King are names to remember, for their musical calibre is spread throughout the modern Jazz scene.

Iverson, Anderson and King first played together in 1989, and released their first self-titled album in 2001 after playing only three gigs together. The Bad Plus can be described as post-modern Jazz, or Avant-Garde Jazz, and they characterize themselves as a "collective" that "favors group improvisation over individual solos". Pop and rock are notable influences and they frequently perform and record covers of popular bands like Radiohead, Aphex Twin, Rush, Pixies, Nirvana and David Bowie.

Pianist Ethan Iverson has a classical background and completely overrides the need for vocals or any other melodic instrument. Without losing any versatility, he uses soft harmonies, legato articulation and full chords with the sustain pedal. While soloing, a predominance of running melodies and classically influenced modes permeate the collaborative efforts of Anderson and King. Bassist Reid Anderson is also a composer, and has the sucessful trio Fly with Jeff Ballard and Mark Turner.

Dave King, the founding member of The Bad Plus is a rock-solid drummer, and he carries the weight of rock, pop and drum and bass in his own alternative style of playing. He obviously has studied jazz, using complicated breaks and fills that sometimes evolve into a continued rhythm. It's entrancing how he is able to create a dynamic flow with his drumming, increasing intensity deftly along with Iverson. He plays in a legion of other bands, Happy Apple, 12 Rods and Meat Beat Manifesto just to name a few.

Prog gives the continuous experience that I worship in an album, never feeling obliged to change songs, or randomize the playlist. 1980 World Champion is about ski-jumping; Thriftstore Jewelry gives a taste of their Latin clout; Life on Mars?, though I already liked Seu Jorge's version of David Bowie, was quite pleasing to hear in an instrumental rendition. The Bad Plus has made yet another fantastic album; Prog will make you forget who you are, where you are, and why you exist.
15 October, 2008 - 16:33 — Miguel Morelli