Music Reviews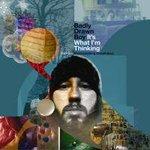 Badly Drawn Boy It's What I'm Thinking Pt.1 – Photographing Snowflakes
(The End Records)
Buy it from Insound

Badly Drawn Boy, the project of English singer-songwriter Damon Gough, deserves better than this, but here goes: Badly Drawn Boy? More like an amazing piece of art. Awful, awful puns aside, for his first album in four years, It's What I'm Thinking Pt.1 – Photographing Snowflakes, and the first in a proposed trilogy, Gough has crafted a beautiful sonic masterpiece that is equal parts raw, open emotion and simplicity and a picture-perfect example of a truly layered production.
The album excels because, from the very first moment of album opener Safe Hands, Gough demonstrates his skill at creating a track that truly sticks with the listener in a way that is almost unshakable in an equally joyous and disconcerting fashion. The wave of ambience built on the most simple of folk guitars, combined with the echoes of Gough's whisper, make for a song of true power despite its easy-listening nature. But Gough understands that, trite as it is, you can say less with more if you've got the listener hooked in a whirlwind of sounds. With overly simplified lines like "Give the boy a crutch/it isn't asking much" (from It's What I'm Thinking) to much of the lyrical content in The Order of Things ("Throw me to the lions/make me a man" stands out especially), Gough has a clear cut ability to maximize the impact of whatever floats across his lips, usually sailing outward on feelings of inadequacy and a kind of distinguished heartache.
As satisfying as those truly basic moments may be, Gough further demonstrates his unquestionable appeal with the aforementioned productions that see the alternative artist take a lot of the musical rainbow and paint us a distinctively unique portrait. With a slightly Dire Straits edge to it, I Saw You Walk Away fuses that '80s bluesy rock with brilliant pops of orchestral strings. It's an overt ode to the New Wave, but the emotion and portrayal of Gough as the man standing tall as his life crumbles around him ("if I don't crucify myself, somebody will/If I don't do this thing myself, nobody will") is strictly universal. From the slightly rural to the straight up Merle Haggard end of the spectrum, the title track utilizes an open desolation adorned with a slide guitar to create a landscape of absolute ruin for Gough to traipse through. Here, he covers himself in the coat of broken down country that's bigger than Willie Nelson could ever dream of and an item that lets him go all out in his journey to assure us we will all die alone. As a sparse electro track, with dreamy acoustic guitar and minimalistic drum beat, The Order of Things buzzes with chimes and samples, an infuriating and experimental bit that burns through the ears and into the cerebellum like it was a blast of psychedelic music. Utterly complex and painstakingly produced, these form the meat of an already meaty LP.
While the album as a whole is undoubtedly one of emotional devastation, two tracks, the slightly grand/psychedelic burner Too Many Miracles, and the acoustic-electro dance hybrid This Electric, are moments of, dare I say, sheer joy and a place for the often-depressing and deep Gough to play up a much-needed lighter side. It's decisions like that, in addition to the more substantial musical choices, that let you see the intricate detail and wide brush strokes Gough attempts to utilize in developing a grandiose return and what could be the first step in a truly important series of albums.
15 October, 2010 - 21:41 — Chris Coplan