Music Reviews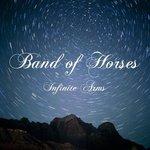 Band of Horses Infinite Arms
(Columbia)

It took two records, some movie trailer soundtracks, and a very universalist approach to their songwriting, and now Band of Horses find themselves being easily the most commercially viable group to keep their indie rock moniker intact. They consistently appear on festival main stages at dusky booking times, and the average teen, despite whatever scene they belong to, is probably rocking The Funeral or Is There a Ghost on their iPod.
And, like every other popular modern rock band, it seems that Band of Horses isn't going to be making concessions any time soon. Infinite Arms is pretty much identical to the band's previous efforts, and it seems rather comfortable with that. It's perhaps a little more floral, a little more acoustic, and a little more lily-livered than, say, Everything All The Time, but it's still deeply entrenched in the alt-folk anthem-smasher subgenre they founded back in the mid-aughties.
The best way to describe Infinite Arms is simply, 'pretty.' The album is full of genuine, sweet, (but never sappy) unplugged guitar jingles and domesticated, upwards-moving string flourishes - the opener Factory is practically a cruise ship slow-dancer. It's really satisfied with being completely accessible, which isn't exactly surprising, this is Band of Horses we're talking about, they've always aspired to be a great American rock band. But this record allows for an eyebrow-raising amount of fluffy, forgettable pap. The title track is immediately tedious, its awkward melodic structure and cold-blooded instrumentation render it almost useless, Cease to Begin highlight Marry Song is duplicated in For Annabelle, but it doesn't carry any of the gnarled roots or rugged demeanor that made the former song so great, even the sole, fist-pumping flannel-anthem Neighbor is absent of the highway-yearning, brain-busting assault that the band has always been known for.
I think it's possible that time may have left Band of Horses behind. They've overstayed their welcome, and more importantly, they may have overstayed their songwriting chops. Infinite Arms isn't nearly as charming nor nearly as emotive as the band's other work. It's an image of a band that's exhausted their aesthetics to a point of sterility, and it's going to take a lot of soul-searching and reinvention to figure out where to go next.
26 May, 2010 - 21:58 — Luke John Winkie