Music Reviews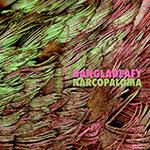 Bangladeafy Narcopaloma
(Nefarious Industries)

With the introductory 25 seconds of Discovery, the tonally driven lead into Bangladeafy's newest album, Narcopaloma, its slowly buzzing ambience is offered as a relative calm before the onslaught of string-n-beat that launches Termites. Once Termites begins, the precedent is set and you're in the throes of some instrumental turbulence.
For seven tracks clocking in at around 16 minutes, Narcopaloma is the work of a band that seemingly revels in the excesses of progressive virtuosity while applying the "econo" philosophy of the Minutemen to their overall presentation. Though short, Narcopaloma sounds complete, every track transitioning perfectly into the next, bridged by synthesized tones and playful, electronic instrumental oddities. For the sake of comparison, one could point to Ruins, Hella or even label-mates, A Fucking Elephant, to provide some examples of the kind of immediate and calculatedly wild music Bangladeafy performs. But, the bass-drum-synth combo of Atif Haq and Jon Ehlers sound inimitably raw and muted, the aggression at the core of their work speaking through notes as opposed to volume. With volume in mind, it's worth noting that Ehlers is hearing impaired, remarkable considering the music's complexity.
As Termites pulses with rapidity, the more melodic rush of Act Like An Adult and the synthesizer-accented funk of Tundra Suntan follow with some constraint, allowing the album to breathe a bit. The speed, however, never truly lessens, and Haq's percussive work remains busy. With Crimes At Sea, for instance, Haq essentially runs through an obstacle course with his sticks, striking at odd intervals, his patterns rarely, if ever, repeating. He runs through another course of percussive calisthenics with Say It With Your Chest, playing more of a lead than Ehler's bass riffs.
With the final album's final track, Trillionaire, Bangladeafy actually hit up the cowbell, playing to an arena staple as the band's continual funk-prog proclivities demand attention for its final couple minutes.
7 September, 2016 - 09:43 — Sean Caldwell