Music Reviews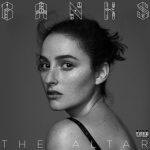 Banks The Altar
(Harvest Records)
Buy it from Insound

Jillian Banks surfaced from a sea of radio hype and woozy alt-R&B beginnings in 2013. After two well-received EPs, her debut album, Goddess, finally saw the light of day in September 2014. For some, it was six months too late. Her sultry delivery and vogue team of producers (Sohn, Schlomo and Lil Silva to name a few) should have bulldozed her contemporaries. Sadly, Goddess ended up largely smoke and mirrors. Banks' second album, The Altar, exudes a brave, often melancholic narrative, making for a rewardingly insightful collection.
Anyone familiar with Banks' previous work will know there was an ever-present exterior of cool, dangerously teetering on lukewarm and disconnected in her pop-oriented songs. The thick, syrupy hallmark sounds of English producer Sohn give us the first taste of Banks' transformation on opener Gemini Feed. The chorus is a choppy change of pace, while the verses are cyclical, stacking layer upon layer of synth. "If you woulda let me grow, you coulda kept my love," she asserts, establishing the theme of finding herself on The Altar. Fuck With Myself is rife with eerie, freakish beats and startling vocal tricks. Alternating between pushing her voice deeper and a biting whisper, she displays a confidence that never made it to the final cut on Goddess.
After the fearless beginning, you'd be forgiven for thinking Banks was slipping back into familiar territory. Love Sick follows a similar formula to most of the tracks on Goddess: there's the rolling, sensual beats, and Banks' effortless smoky tones, but it lacks focus. Mind Games, while an assured demonstration of her impressive vocal range, is almost too theatrical against her new liberated persona.
Alternatively, tracks like Trainwreck and Judas offer unexpected forays into various pop landscapes. The former is unlike anything she's recorded before: an urgent, panicked trap affair broken up by short bursts where she indecisively switches between rapping and talking. Judas, on the other hand, with its slinking, syncopated synth creeps around Banks' diluted vocals. It sounds like it could be cut from an early Weeknd mixtape, but the hypnotic, Eastern beats and repetition have much more in common with the early musical partnerships of Timbaland and Justin Timberlake.
It's obvious Banks worked hard to push her own boundaries. However, given the theme of The Altar, her journey of discovery contributed to the demise of certain relationships, and this is her lyrical driving force. No longer hiding behind her veil, she spells it out openly on tracks like the sombre, slow burner Weaker Girl: "Tell 'em you were mad about the way I grew strong." Personal growth is a complex process. At times it is necessary to break away from limiting – or even damaging – places and people. "I think you need a weaker girl," she softy comments over wistful strings, all too painfully aware.
To The Hilt is a sparse torch song, showcasing the vulnerability of her voice and the sophistication of her writing. The contrived epithets of Goddess are long gone, replaced by direct shots: "So they say it's the industry/But I miss you on my team." An obvious allusion to finding musical success, there's sadness in Banks' story, but a victory in her willingness to share it in her music.
From Gemini Feed's bold awareness, to 27 Hours' electrifying finish, The Altar is an accomplishment. There's much more happening, but its tighter and fuller, filling in the most glaring gaps left by Goddess. Banks is comfortable in her own skin: visually, sonically, and emotionally. It's by no means perfect, but it is her personal triumph.
30 September, 2016 - 05:00 — Ellis Victoria