Music Reviews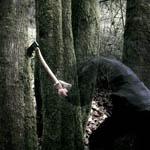 Baptists Bushcraft
(Southern Lord)

In 2011, one of the most destructive feats of technical proficiency I'd heard was spun from the grooves of a four-song 7" from Baptists, a Vancouver d-beat quartet that had taken one of the jazziest approaches to metal crossover hardcore I'd heard with the song, Life Poser. Though the band's searing onslaught of percussive mayhem and howling guitar strings is enough to knock you on your ass, beneath whatever brutality Baptists attempts to inflict upon your precious ears lay complexity and a very refined musical approach that might seem secondary next to the violence they generate. That being said, the relentlessness and aggro-as-fuck vehemence spewed throughout a four-song stretch might overstay its welcome if expanded into an LP.
Enter Bushcraft, the band's first full-length album, eleven songs that cultivate varying degrees of loud and fast, fast and hard, hard and…well, harder. It's an album of perpetual fruition, payoff meeting payoff with gratifying speed and the rush of riff-borne frenzy. Produced by Kurt Ballou (Converge), Bushcraft has less of the jazz-rhythmic dexterity of its smaller predecessor and more a punk flavored shock of rhythm guitar swells (Betterment), blast beats (Think Tank Breed) and choked frets (Bullets). The immediacy rarely breaks stride long enough to catch its breath, an expressway to yr skull resolved to impact and leave everything in its path to ruin.
Though amplified stress and speed sustain most of Bushcraft, its velocity is exceptional. The buzz and howl of In Droves and scrubbing down strokes of Mortarhead, the quad-kick pulse of Crutching Trails and then the full two-minute and forty-one second title track, whose frustrated mix is beautifully aggressive: All of this immensity, concentrated into less than 30 minutes' worth of listening time, is invigorating.
Still Melt, a well-honed synthesis of The Jesus Lizard, Neurosis and Flipper, slows the pace and luxuriates in its doom-laden tone, a chunky bass rhythm compounded by heady percussive drags. Soiled Roots also offers pause, a loose and sludgy construct providing the album its longest, most deepening listen.
Russian Spirits and Abandon close out the album, the latter song evocative of some of the jazz-addled tendencies of Saccharine Trust, immediate trauma inflicted before the final seconds of Bushcraft elapse. Rock fist ensues and all is well with the world. Now hows about an "amen?"
27 February, 2013 - 03:00 — Sean Caldwell