Music Reviews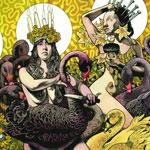 Baroness Yellow & Green
(Relapse)
Buy it from Insound

Back in 2009, Baroness released not only one of the year's most critically acclaimed metal records (competing with albums by Mastodon, Sunn O))), and Kylesa), but also my personal favorite album of that entire year, the Blue Record. That LP marked a perfect blend of heavy-riffing, highly technical guitar noodling, and hook-loaded songwriting- an overall heavy-metal wet dream for a former Central Jersey mall-metal kid like myself. Now, three years and a massive amount of anticipation later the Savannah, Georgia sludge outfit has released a sprawling double album with a very new musical direction in tow. However, while the album possesses an overabundance of great ideas, it does fall victim to the crushing weight of its own ambition.
For starters, Yellow & Green is filled with quite a few quirks in its overall musical direction. While Yellow is largely a collection of fantastic compositions, some very crucial elements are poorly executed. Probably the most noticeable and affecting of these imperfections are the vocals on many of these songs. Upon first listen, one can immediately see that frontman John Baizley is taking a very different approach on this record. The guttural yells of the Red Album are mostly done away with, in their place are the much softer moments of the Blue Record, more in the vein of compositions like Steel That Sleeps The Eye or the harmony sections on War, Wisdom & Rhyme.
This approach works really well for many of the tracks on Yellow, but occasionally falls flat. The vocal delivery on Little Things and Back Where I Belong are a perfect example of where Baroness could have employed some whiskey-voice growl to give the songs some extra girth, but instead remain all too close to their softer, melodic-rock approach. In the end, we're left with a vocal delivery that is more or less melodramatic and passive in nature, and both songs suffer for it. On the other hand, Take My Bones Away, March To The Sea, and Sea Lungs represent the perfect balance between Baizley's clean harmonies and ferocious yell. The mix of these two contrasting vocal styles makes for a truly passionate delivery and adds a significant layer of emotional depth to those cuts.
While the vocals do hold back quite a few of the songs on Yellow & Green, they are definitely balanced out by the brilliant instrumental compositions underneath them. This is an aspect that truly represents the most positive and adventurous results of Baroness's new sound. The guitar arrangement on March To The Sea displays some of the finest technical intricacy and visceral ass-kicking the band has ever put to tape. The beginning of the song has a dreamy, almost classical sounding guitar section that quickly overturns into a chugging, fuzz laden chorus complete with a bouncy lead guitar line. The synth lead on Cocainium is another noteworthy moment on the album- showing that the band is truly stepping away from any conception of traditional metal instrumentation.
One of the biggest problems with Yellow & Green from the start is that it is a double album. At a staggering 18 tracks and 75 minute length, this double LP just seems a bit over-bloated and as a result remarkably watered down. While I really do appreciate the ambition Baroness presents on this sprawling release, I can't help but think they could have trimmed the fat and ultimately turned out a concise, strong effort. This is particularly felt on Green, which for the first half feels like a collection of b-sides and filler. Songs like Mtns.(The Crown & Anchor), Fool Song, and Collapse just feel like lesser pop-rock songs that do little to progress Baroness's new sound. Stretch marker has a similar problem in that it doesn't quite stack up when compared to other superior instrumental cuts on the album. Its placement on the record is pretty unnecessary and it's ultimately an inclusion that would have been best suited for a bonus disc of studio out-takes.
That being said, Green still does have some exhilarating moments. Psalms Alive features a pretty intense build-up that explodes into a harmony laden guitar section, reminiscent of some moments on the Blue Record. Some of that song's vocal harmonies do irritate me a little, mostly because they seem a tad bit overdone, but overall this is a case where the band's new direction has proven to be a rather strong choice. The Line Between is another brilliant psych-rock offering from the second disc. Again, the vocals on this song seem to be some of the most powerful on the entire record- a perfect blend of John Baizley's former sludge-grit and his softer harmonious vocal approach. The cacophonous lead guitar harmonies that end out the track are probably one of my favorite moments of the entire double LP. Moments like these are fine examples of John Baizley and Peter Adams clearly defining their intense caliber of musicianship and songwriting on this record.
There are very few double albums in rock and metal that can be considered truly great. For every White Album or The Wall, there are a plethora of lesser albums wrought with continuity issues. Unfortunately, we find Yellow & Green fitting in with the plethora rather than the celebrated few. However, this is not to say that Baroness's latest effort was at all bad. This is a case where the good does far outweigh the bad, and had this album been a bit more condensed, it would have been one of my favorites this year. Maybe next album Baroness will find themselves a good editor to help them sift through their seemingly endless well of innovative ideas.
26 July, 2012 - 06:16 — Andrew Ciraulo