Music Reviews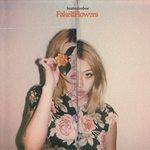 Beabadoobee Fake It Flowers
(Dirty Hit)

If you've been following Billboard's alternative airplay charts, you might've noticed the curiously named Beabadoobee and wondered about her breakthrough single Care. What's also surprising is that the Filipino-born British singer-songwriter's single brings back a 90s-evoking sound that resonates more with smaller indie rock bands who have to push hard to get their fans to listen to their music on platforms like Bandcamp. Another glance at the charts also reveals that the veteran artists she's currently pitted against, whom she proudly emulates, have moved on to other sounds since alt-rock hasn't been fashionable for over twenty years—the Smashing Pumpkins have taken another dramatic pivot with their goth-tinged disco jam CYR, while The Killers are so deep into the Bruce Springsteen rabbit hole on their new album Imploding the Mirage that they've likely paid The Boss top-dollar to make sure he doesn't sue for copyright infringement.
Care, the opening track to Beabadoobee's (aka Bea Kristi's) debut album Fake It Flowers, is a hooky, anguished alt-rock anthem with surprising mainstream appeal that prominently features, wait for it, guitars. And though that might seem like an absurd take, it's safe to say that many of today's big-ticket rock acts (Twenty One Pilots, Imagine Dragons) use the guitar as a supplement and not an essential part of their sound. Kristi falls under the new class of Gen Z-ers (Snail Mail, Clairo, and Soccer Mommy) who are revitalizing grunge-pop with new perspectives blended in with some good, old-fashioned heartache. And though a successful collaboration with Canadian rapper Powfu may have boosted her popularity, thanks to his viral TikTok hit Death Bed, Kristi is carving out her own unique niche.
Kristi is the first to admit that her mom was an avid listener of artists like The Cranberries, Liz Phair, and Natalie Imbruglia. It might explain why strummy confessionals like Worth It and Dye it Red both recall that late-90s period when female singer-songwriters topped the charts by adding a pop sensibility to sleek, radio-friendly alternative rock. But that's really where the comparisons end. Take Charlie Brown, for example, an unabashedly fiery, heavy-at-all-costs rocker that's more Nirvana's Nevermind than Alanis Morrissette's Jagged Little Pill. On Sorry, one of the album's most dramatic moments, she blends in chamber-pop elements with fuzzed-out dissonance that points to bands like That. Dog and Eve's Plum (for the Vitamin C historians out there who surely appreciate Colleen Ann Fitzpatrick's beginnings before she became an unlikely pop star).
As you might've guessed, these are not safe jumping-off points to a successful career in today's rock-agnostic age. But if there's one aspect of Kristi's music that connects more than anything else, it's how her lyrics tackle issues that any young woman can relate to with sincerity and empathy. "You say that you're breaking up/connection too slow so just try texting again," she muses on Worth It, exploring the anxieties brought up by love in a technological age over reverb-y guitars. Kristi, whose voice barely cracks over a sweet whisper, is heartbroken over the friends she couldn't help with mental health issues on Sorry: "And it hurts me/That you could be the one that deserved this even more/But you stayed in the same dark place that I adore." She's never afraid to reveal the darker sides of her past, just as the track itself builds into a heart-wrenching, strings-led build.
After 2019's promising EP Space Cadet, Fake It Flowers further amplifies everything that Kristi hopes to communicate in both musicality and subject matter. Some less-than-stellar songs lose some of the album's momentum, especially when she dials down the intensity, from the lush, yet misguided dreamscapes of Emo Song to the pleasant, yet simple to the point of monotonous sentiments of Together. Though likable, bringing back the banal midtempo of Remy Zero and the Never Been Kissed soundtrack is taking it a step too far. Kristi attempts to squander everything she accomplishes with the thrashy, unhinged Yoshimi, Forest, Magdalene—which closes the album with such aggression you'd think she and her bandmates are about to smash their instruments. But for all intents and purposes, Keep It Flowers is an edgy, brash, and well put together statement that mostly goes down easy.
19 October, 2020 - 05:16 — Juan Edgardo Rodriguez