Music Reviews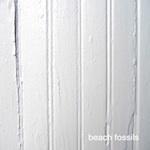 Beach Fossils Beach Fossils
(Captured Tracks)
Buy it from Insound

Throughout Beach Fossil's debut, you can hear the sound of birds chirping and gulls squawking to the sound of water coming to shore. With summer knocking pretty soon, there's no doubt that Beach Fossils are capitalizing on what summer means to many. Though warm and inviting, there's a transparency displayed that will not apply to, say, beefed-up voyeurs, having a quick look at bikini goddesses. This sort of intimacy is the kind that appeals more to a young, dejected kids' yearning, listening passionately to music while all the cool kids have all the fun.
That's not to say that Dustin Peyseur's project, Beach Fossils, is the by-product of promoting anti-depressants to today's youth. In fact, the words Peyseur employs are more relatable to that of typical young adult fiction preoccupations. These are the sorts of themes anyone with a pure, not-yet disillusioned heart wishes upon. In fact, the song titles themselves could summarize a specific mindset: I'm alone, having an afternoon daydream about a vacation with my friends that doesn't come as soon as I'd hope, wishing we'd gather around for a bonfire in what would turn out to be a lazy day, remembering what it was to be so young and carefree. Unfortunately, here I am, wide awake, wishing I'd go back to those olden times. But sometimes, reality is what holds me back. But is this my implicit yearning, revealing itself through the words of an album review? I don't think my summers used to fit that specific frame mark – and that's coming from someone who grew up on a tropical island.
In fact, Peyseur didn't either. In Vacation, he sings about getting the bus and leaving the city behind; probably the inkling for any Brooklynite who's had enough of brick and mortar chains, thirty level buildings, and three seasons of cold weather. To this, we have the creation of the Beach Fossils' debut album, a mostly nostalgic look into classic pop's glory days (very early 60's), but with an ardent approach to bring back college pop's reconstruction (very 80's), and packaging the material into a clear-headed, medium-fi aesthetic (very now). To credit Beach Fossils, the fuzzed-out pop they stir up is perfectly approachable to the ears, leaving one pleased and content with how un-preoccupied it sounds.
Sometimes, which starts with a Velvet-y like strum, focuses on Peyseur's contradicting imagery, with an ability to fit words like poetry. Reverbed swells make up Lazy Day, drifting at ease while those lucid chord strums cycle repeatedly, a quality very reminiscent of current noise pop duo The Raveonettes. Twelve Roses sets free like a fine college rock jangle tune, with Peyseur wondering I don't know what I'm doing here/ and I can't say why you would be here, taking a cue from Micheal Stipe's reserved vocal readings. Golden Age's variation in tempo suits their catchy poise, with delightful hooks and riffs that sound just exact, even relying on it exclusively when there's an absence of verse in the chorus - a bold move, considering they substituted words for a few dreamy ahhh ahhhs.
Even if the influences present are innumerable, Beach Fossils mostly recall Real Estate's choice of atmospherics over muffled washes of melody. The songs attain to a certain ripeness, but there are hardly any remarkable ideas that really define them as a whole. Peyseur's rule of command is stitched throughout the production, leaving an undeserving restraint for the rest of the band's hollowed instrumentation. As a whole, Beach Fossils' wandering spirit is felt on occasion, but devoid of any pertinent connection.
6 June, 2010 - 10:34 — Juan Edgardo Rodriguez