Music Reviews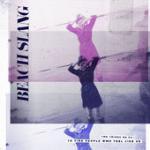 Beach Slang The Things We Do to Find People Who Feel Like Us
(Polyvinyl Records)
Buy it from Insound

Beach Slang are the kind of punk lifers who like to live in the moment, where every unprecedented life event points to a logical, if not natural transition. The Philadelphia foursome write spry, anthemic scorchers that could easily pass as yearning rock ballads if they were treated with a more conformist ethos, and though it comes close to that, they maintain a likable sincerity that makes it easy to root for them. Even the titling of their full-length debut effort, The Things We Do to Find People Who Feel Like Us, reads like a wishful motto to oneself, that of keeping true to yourself in a turbulent and often painful world.
Though Beach Slang are charged with a direct, oftentimes wholesome simplicity, it's in their weathered optimism where they defiantly soar. Even trite declarations such as "We are young and alive" sound just as you'd expect, animated and with just an hint of bite, waiting for a passionate and loyal crowd to chant their every word with cathartic abandon. It's another in a long line of straightforward rock albums that finds its heart bruised but its strength renewed in remembering those good times, in believing that a distorted, though tuneful riff can lift the spirits. This should sound like an all-too-familiar narrative for Replacements-era Tim fans, especially found in urgent cries like I Break Guitars and Throwaways, two almost-identical, fuzzed-out mid tempo cuts where the deadbeats and the losers triumph with ragged, open-hearted emotion.
As opposed to Westerberg's defeatist cynicism, Beach Slang only borrow some of that sharp, major key tonic with the intent to enlighten and not alienate. It's refreshing to see that a band whose formative roots go back as far as the mid-90s, frontman James Alex an integral part of cult favorites Weston, can still grab the heart without getting bogged down by the perils of aging complacency. Instead, Alex comes across as a life coach for the marginalized, one whose lived long enough to know that "nothing really changes when you change you mind", and still manage to express it with a fervor that implies he's still waiting to be proven wrong. Beach Slang are well-aware that there are people out there who feel just as they do, and they reveal their allegiance through the power of a good ol' rock song.
30 October, 2015 - 03:59 — Juan Edgardo Rodriguez