Music Reviews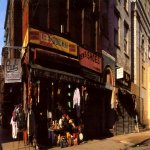 Beastie Boys Paul's Boutique
(Capitol)
Buy it from Insound

"It's almost album-oriented rock, but of a kind that doesn't exist. Everything throughout the album meant something; it's not like there's twenty minutes of filler. It will be interesting to see what happens."
— Mike D, quoted from Rolling Stone, June 15th, 1989

Here's what happened:

Paul's Boutique, second full-length album from hip-hop trio, the Beastie Boys, was deemed a commercial flop.

Fleeing to Los Angeles from their native New York, Beastie Boys Michael "Mike D" Diamond, Adam "Ad-Rock" Horovitz and Adam "MCA" Yauch were in the midst of legal issues regarding their contract with Def Jam. Piggybacking on the strength of their huge success with Licensed To Ill, their juvenile debut album, Capitol Records took them on, banking on a repeat performance.

But, having already excelled at offensive accessibility, the Beastie Boys figured they'd basically follow-up a mainstream hit machine by taking an avant-garde approach. Consequently, Paul's Boutique failed to really reach an audience that wasn't still reeling from fighting for their right to party. It seemed that, despite some critical acclaim for what truly was a groundbreaking and innovative album, the Beastie Boys' success would be considered a fluke.

But, as time elapsed and hindsight set in, Paul's Boutique eventually gained respect and is now considered to be a milestone. Twenty years after its release, the Beastie Boys have seen fit to reintroduce Paul's Boutique to the appreciative; those of us who've witnessed its lasting effects on the group themselves, and its existence as a creative cornerstone in a genre that was still slowly coming to be accepted as a relevant art form to anyone living outside the city.


"Caught, now in court 'cause I stole a beat/This is a sampling sport/But I'm giving it a new name/What you hear is mine/P.E. you know the time…"
— Public Enemy, Caught, Can We Get A Witness?

As the stylus reads the grooves aloud, my newly minted vinyl edition of Paul's Boutique currently in rotation, static free and clean as a whistle, something as party specific as Shake Your Rump still possesses a brilliance that most dance music lacks. Bringing the Dust Brothers into the fold, (producers Matt Dike, Mike King and John Simpson), the Beastie Boys opened up avenues of musical exploration, unhindered by the sampling constraints of our current day and age. Nothing this sample-heavy could be brought into the marketplace now, which means Paul's Boutique exists as a creative apex as well as a cultural artifact.

But, despite its abundance of "found" and recycled grooves and beats, the collaged assembly is so intricate that the songs rightfully earn their new identity. Eschewing the mostly rock riff-based song structure that then-Def Jam producer Rick Rubin used to tackle License To Ill, Paul's Boutique encompassed soul and funk for the foundation and then got clever with everything else.

Johnny Ryall, a song about a bum that used to occupy a stoop outside Mike D's home, starts off as an inebriated march and transitions into an odd, off-key blues song. Whereas Shake Your Rump still carried the familiarity of License To Ill's party-time demeanor, Johnny Ryall quickly switched gears, turning Paul's Boutique into a psychedelic hip-hop abstraction.

The quickly paced Eggman, mixing drum loops from Sly & The Family Stone (Dance To The Music) and Curtis Mayfield bass lines (Superfly) with the high-pitched violin squeals from Psycho's film score, creates this urgent and noir-esque treatise on egg tossing ("…Drive by eggings plaguing L.A./'Yo they just got my little cousin, ese…'") and then follows that up with the 'sploitation road epic, High Plains Drifter, which boasts an Eagles/ZZ Top/Loggins/Ramones combo.

The album's boldest move however was Sounds Of Science, the Beatles acting as its sacrificial lamb.
Extracting guitar riffs, drum beats and incidental noise from the sacred grooves of Abbey Road and Sgt. Pepper's Lonely Hearts Club Band, Sounds Of Science in a lot of ways revived the Beatles' worth as a working class band. Admired from afar as this one-time majesty of pure mania, the Beatles' status has forever been unattainable by any musician, so the idea that a rap group with only one hit record to their name could reinvent such heralded material sort of made it more human. Even the idea of including a Side B medley, B-Boy Bouillabaisse, seemed based upon Abbey Road's famous B-Side (an observation made by Rolling Stone's David Handelman when he reviewed Paul's Boutique in 1989).

I'm sure the surviving Beatles didn't feel that way, but seeing as George and Giles Martin recently reconsidered the Beatles catalogue for Love, the soundtrack for a Cirque du Soleil show of the same name, maybe the Beastie Boys and the Dust Brothers had the right idea. Maybe, appropriation and reinterpretation is needed in order to keep ideas fresh and music new. Maybe hip-hop's growth has been forever stunted by artists seeking royalties for the use of two to five seconds worth of sound.

The Beastie Boys, in an effort to revisit the old school with 2004's love letter to New York City, To The 5 Boroughs, were unable to replicate the energy or innovation that seemed so second-nature to them fifteen years before. Did they lose their collective ability to rock it old school, or the means with which to express it?


"I'm a writer; a poet; a genius; I know it/I don't buy cheeba, I grow it…"
— Beastie Boys, Car Thief

As the album continues through the headknock of 3-Minute Rule and the disco pop of single Hey Ladies, it's apparent that the Beastie Boys were still into getting laid and loaded to some extent. Though the music matured, they didn't necessarily fall in line; they just got into different things and the midway bubbling bong hit that breaks into Shake Your Rump is more than just a subtle hint as to what those things were.

Chemical influence played more of a roll than Brass Monkey as far the album's inception, creation and content, which probably drove the metal edged vision of Looking Down The Barrel Of A Gun ("Ultra violence running through my head…") and the electrified whistle of funk song Car Thief ("People always trying to get next to me/I had a beautiful experience on Ecstasy…").

But, other than the obvious and glaring inclusion of psychedelic music (the aforementioned Beatles, Pink Floyd) and drug references ("Are you experienced, little girl?"), the Beasties, having bookended the album between sly dedications to the ladies (To All The Girls), maintained the same less than flattering view of sexuality and women they exuded in License To Ill. Having since withdrawn these views for a more politically correct position on gender, lines like "Rapunzel Rapunzel let down your hair/So I can climb up and get into your underwear…" (What Comes Around) suggest the possibility that they weren't completely willing to drop their party boy personas.

The funky Shadrach leads the album into B-Boy Bouillabaisse, a medley comprised of nine parts that seems to squeeze the rest of the album's ideas into twelve and a half minutes. Its longest offering, Stop That Train, winds up its most fluid and realized moment, delivering an abundance of New York City air with its narrative. Its other chapters are snippet quick, carrying decent beats (Lay It On Me, Hello Brooklyn) and fun raps (Year And A Day, Mike On The Mic) till dedications are all that's left to be had (A.W.O.L.).

Aware of the album's importance in the music landscape, the Beastie Boys' commentary on the making of Paul's Boutique didn't seem to require a lot of enthusiasm on their part. They didn't have to sell it, or convince anyone that it means something. Time has basically told of its worth and, as twenty years have passed, I realize I'm not saying anything that hasn't been said before. I'm just appropriating and reinterpreting, keeping ideas fresh and music new. To all the fans…
13 February, 2009 - 13:47 — Sean Caldwell