Music Reviews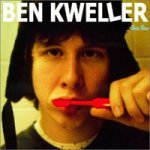 Ben Kweller Sha Sha
(679)
Buy it from Insound

If you love your pop with a snap and a crackle, you'll love the debut album from ex-Radish man Ben Kweller. It sounds like Evan Dando's younger brother jamming with Weezer, while Ben Folds stabs at the ivories and on the whole is a satisfying fix of summer sun. A mixture of off kilter pop, fuzzy guitar chugging and country tinged ballads, with the necessary irony and wit in place, this is a no-brainer, but not emotionless, charmer of a record.
The main plus of Sha Sha is the incredibly catchy and accomplished songwriting on display - not bad for a 20 year old. Each song glides along with candy coated, slacker ease and dares you to hum along - realisation kicks in and you've been singing out loud for half of the album. Some may baulk at the deliberately cheesy melodies and arrangements here, but what the fuck, if y'all want deep, you've come to the wrong place. The piano intro to In Other Words would sit easily on any Jim Steinman produced piece of pomposity, the difference being that Kweller turns it into an affectionately gooey slice of sing along pop. Perhaps the only downfall would be that he tends to follow the Weezer trail a little too closely - sometimes and when the distortion is turned down a touch, the songs have a bare melody and a shimmer that is lacking slightly from the muddier, guitar driven songs. Particularly on the Ben Folds style closer Falling, which hints at a hidden melancholy depth, that could be lurking under the surface of the slacker pretence and it is the albums highlight. Strings swoon, and the melody is so sweet, you can feel your teeth decay after each morsel is consumed.
With a little less bluster and a touch more innocence Ben, you could touch some hearts.
1 August, 2002 - 23:00 — Mark Mason