Music Reviews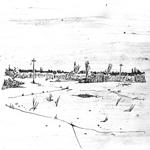 The Besnard Lakes You Lived in the City EP
(Jagjaguwar)

The Besnard Lakes' You Lived in the City is comprised of music for Michael Simmons' multimedia documentary, Welcome To Pine Point, and for the ending credits of the film, Memories Corner. With this in mind, out of context the music herein seems sort of sleepy and overlong. The band's cover of Trooper's We're Here For a Good Time (Not a Long Time) is slowly built up over almost eight minutes, their penchant for dream pop and psych noise perfect for a storyteller's backdrop. Singer, Olga Goreas, could be likened to Julee Cruise, the sort of daze-inducing vocals that causes listeners to lose themselves in the melody, afloat.
Although you can fall into the opening track's subtle sonic mire, the following score tracks, Holiday Sin and Some Colour in the Sky, both of which are thematically based on the opening song, provide enough of an opportunity for this. Together, in spite of the addition of mandolin notes, Link Wray surf chords or synthesizer wisps, the Welcome To Pine Point material feels monotonous. Being limited to three pieces of music, there's little by way of variation to explore in terms of the album's theme, which is an unfortunate drawback.
The fourth and final track, The Corner, is the EP's standout. Out of two pieces of music the band wrote for the film Memories Corner, The Corner was the piece NOT selected and is exclusive to this EP. The most-lively moment in You Lived in the City, The Corner best demonstrates The Besnard Lakes' strengths as a dream pop band with a rock angle, the thick low end and spacey melodies grabbing attention, even out of context. Though it's not enough to really save the full EP from falling flat, The Corner at least closes it out with something redemptive.
17 October, 2011 - 09:23 — Sean Caldwell